Around The Store With Stew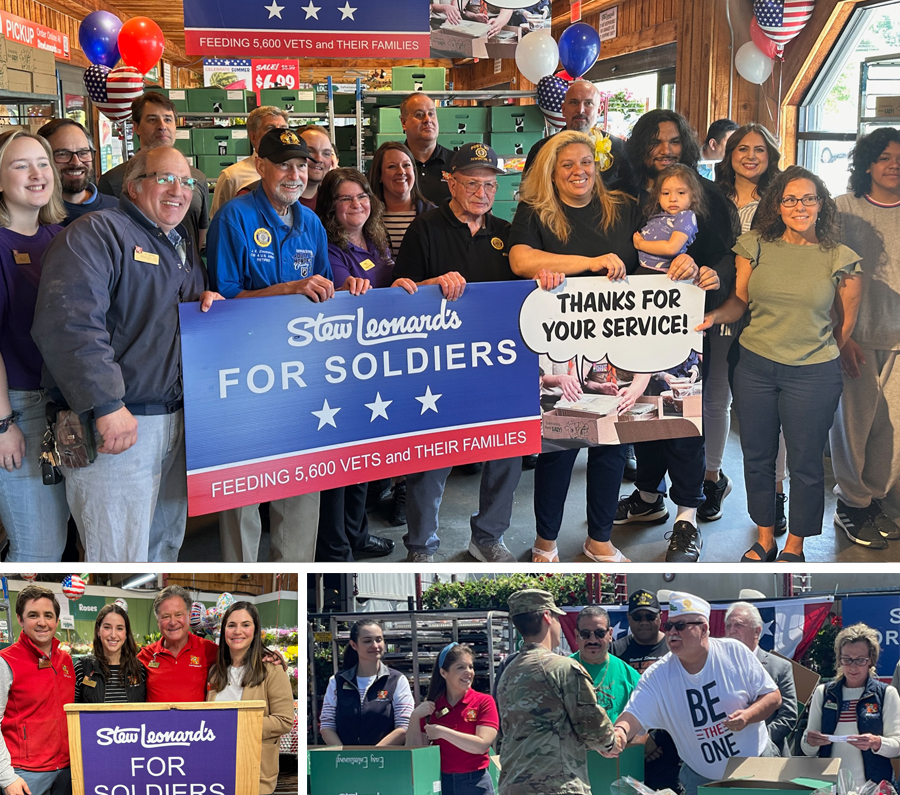 We're Feeding 5,600 Veterans
In honor of Memorial Day, all seven of our stores hosted the first-ever "Stew's for Soldiers" event on Friday to thank veterans and remember those who died in service to our country. Altogether, we donated 5,600 meals to local VFWs and American Legions. Thank you to our chefs and our Team Members for their help packing up the boxed meals - each box was enough to feed 8 people and had everything our veterans and their families needed for a delicious summertime gathering, including pulled pork, BBQ'd chicken, Hawaiian roles, baked beans, coleslaw, and more.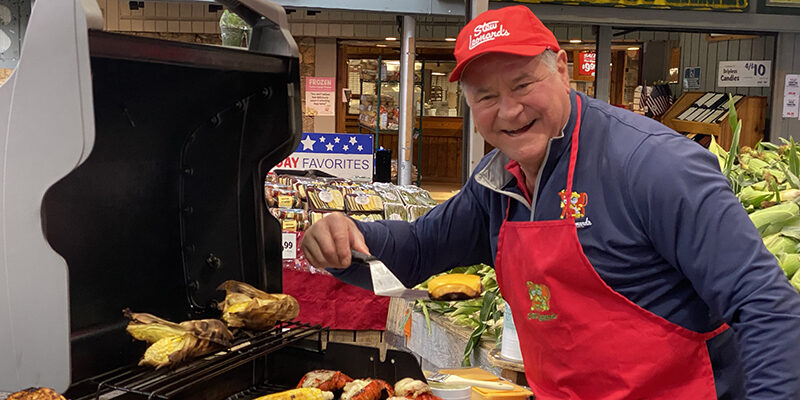 What's The #1 Memorial Day
Grilling Item At Stew's?
It's all about BURGERS! The Filet Mignon Burger was #1 last year and it looks like it'll top the charts again this year. Try the ones with bacon and cheddar. They're my favorite. How can you go wrong with that combo? We've also just launched a Stew's version Kobe Burger last week, which right out of the gate is going gangbusters.
You like our chicken burgers, too. Don't forget to pick up some sliced American cheese and a few picnic salads to go with your burgers and hot dogs. Try the Macaroni Salad; it's the #1 best seller (followed by Potato Salad). Here's a recent video of me grilling gourmet burgers to get you thinking about which burger to make this weekend.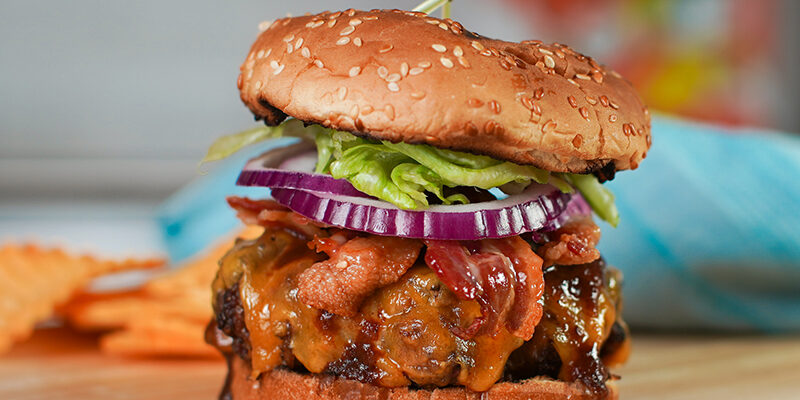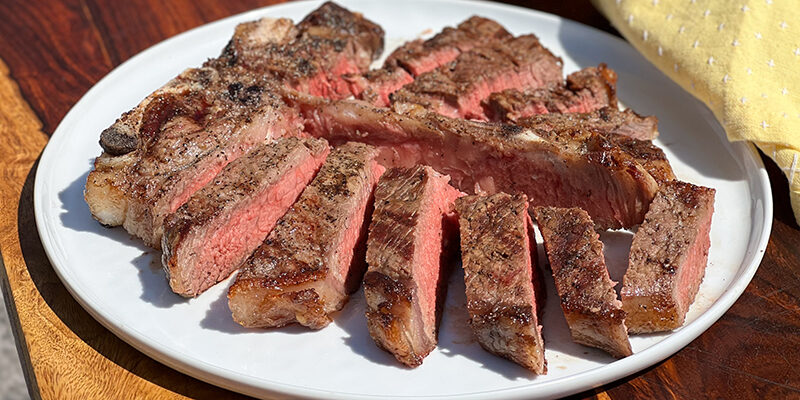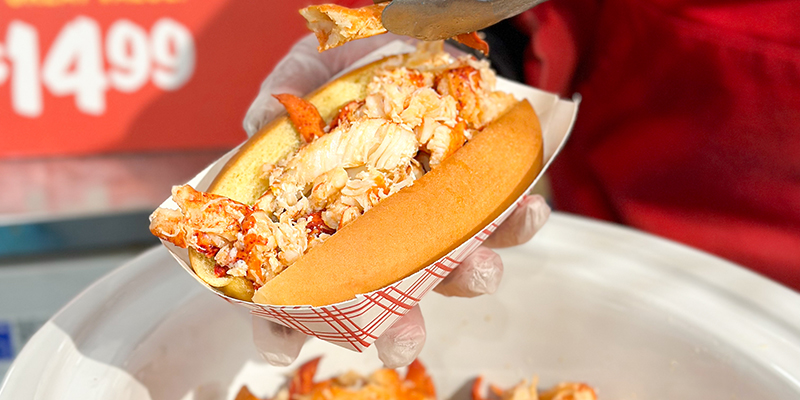 What's Happening For Memorial Day Weekend At Stew's?
Look for produce events happening in Yonkers, Norwalk, Paramus, and Danbury. We'll go big on Real Deal Lobster Rolls. They'll be hard to resist after watching this video! It's a big weekend for our Garden Shops, too. We'll have deals on annuals like begonias (they're natural showstoppers) and marigolds that'll help keep away mosquitos.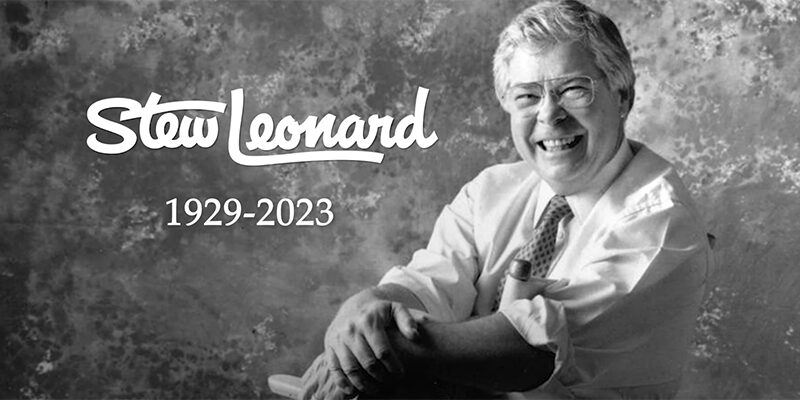 A Heartfelt Thank You
We received thousands of condolence cards for my dad. I want to thank everyone for the outpouring of support and for sharing their stories about him. My favorite story came from a woman who I saw in the store who told me that when she was pregnant with her triplets, she told my dad about how it would be a challenge to diaper and feed them. He said to her, "If you ever have a problem feeding them, come see me and I'll help you out." That made me feel really good.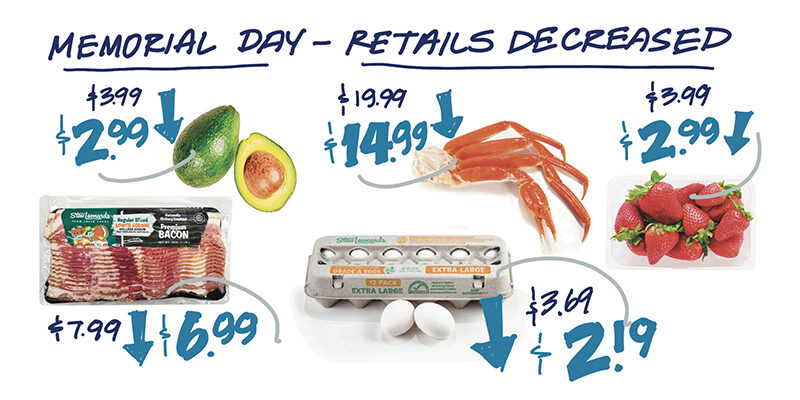 Inflation Biggies
Eggs are way down in price as flock sizes recover from bird flu. Beef markets are high. Herd sizes are down but are increasing with rain and greener pastures. Still dealing with high feed prices. Energy and labor, too. Overall, there's an easing in the markets. I feel food inflation has peaked.
May 2023 vs. May 2022
Memorial Retails Stayed The Same Vs. Last Year:
• Salmon $12.99 Last Year & This Year
• 4oz. Cold Water Lobster Tails $9.99 Last Year & This Year
• Propane $18.99 Last Year & This Year
• Ground Chuck $3.99 Last Year & This Year
• Porterhouse Steak $15.99 Last Year & This Year (With the APP deal going on right now, it's only $9.99lb.!)
Memorial Retails Increased Since Last Year:
• Peeled Beef Tenderloin $17.99 Last Year -> $18.99 This Year
• Loose Cherries $7.99 Last Year -> $8.99 This Year
• Romaine Hearts $3.99 Last Year -> $4.99 This Year
• Grapes $3.99 Last Year -> $4.99 This Year
• Bone-in Ribeye Steaks $15.99 Last Year -> $16.99 This Year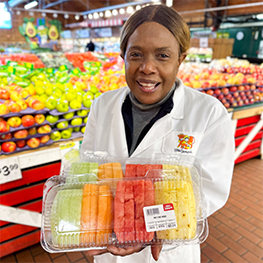 Memorial Day Best Sellers
The store is buzzing, and you're buying!
• Demand is up for the BBQ Department's Fried Chicken. No surprise there. Smoked meat, too. We smoke ribs in-store now using cherry and hickory wood. It makes a huge difference in flavor.
• From the Bakery, cake slices are hot. Your favorite right now is Chocolate Overload, followed by Rainbow and Bananas Foster. And our best-selling platter for Memorial Day will be the Cannoli Platter… again. Brioche and Snowball Rolls are still on a roll. Great for all those burgers you'll be grilling.
• Our best-selling item in Produce is the 4lb. Fruit Bowl. They're filled with fresh berries, melon, grapes, pineapple chunks, and kiwi. Grab a can of Stew Whip and you've got yourself an instant dessert. My favorite fruit snack is what I call Rainbow Sweet Fruit Wedges. It's big slices of fresh pineapple, watermelon, cantaloupe, and honey dew melon. Hard to resist.
You're also taking good advantage of APP deals. Check out the great deal on Porterhouse Steaks running now. You'll be saving $3lb through the APP. Here's a grilled Porterhouse steak recipe that'll make everyone happy.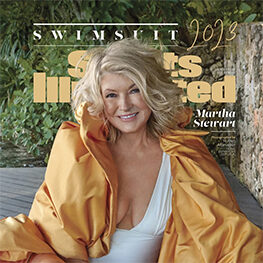 Martha, You're Amazing!
When Martha Stewart had her catering business in Westport, Conn., she shopped at Stew's. She was a 2 shopping-cart customer. As a kid, I pushed her extra cart to her van. Who would ever think that I could now say I also know a swimsuit model on the cover of Sports Illustrated!
Martha – Also, thank you for the beautiful note you wrote to our family about my Dad. Big Heart!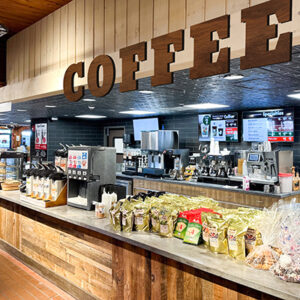 Norwalk Construction Update
As of June 1st, BBQ will be remodeled with a new kitchen which will include making our house-made pizzas and in-house freshly made potato chips. You'll also be able to watch the chefs and Team Members grill chicken and fish.
Also on June 1st, our Farmers' Market and outdoor seating space for the Hoedown will be under construction to make way for our new grand entrance. But don't worry, the beautiful new Farmers' Market and outdoor seating for the Hoedown will be back before you know it!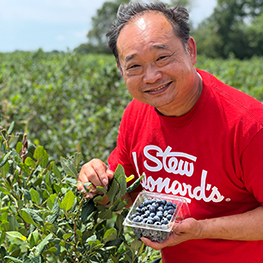 It's Local Time
Pennsylvania and New Jersey are starting to shop for local fruits and veggies. We've hooked up with lots of local farms and are getting daily deliveries. I love going to farmers' markets. Union Square in NYC is one of my favorites. We do the same at Stew's, working with many of the same farmers. What's local? My definition is – If I can visit a farm and be home for dinner, it's "local".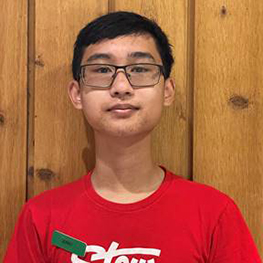 Team Member Tuesday
High Five, Jerry from Danbury! Team Members like you are the reason our customers keep coming back!
"I love Stew Leonard's and make the drive up to treat myself even though I live in New Windsor, NY. Cashiers at other companies can learn a thing or two from Jerry on how to interact with customers. He greeted me with a smile, was very kind, helpful, and pleasant. You're blessed to have him working in your store." Sincerely, Jo Ann P.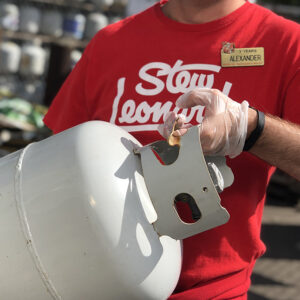 How To Avoid Getting
A Divorce?
Fill up your propane tank! Memorial Day is huge for grilling. We'll sell over 5,000 Propane fill-ups leading up to the day.
Your Most Popular Food Questions For Memorial Day
What's the fastest way to cook corn on the cob? Place a whole, un-shucked ear of corn in the microwave. Microwave it for three minutes. It's now perfectly cooked.
Which steak is best for grilling? We recommend a bone-in steak for extra flavor, like a ribeye, NY Strip, or Porterhouse. The best thickness for grilling is 1" or 1 ½" – anything less will cook too quickly and dry out the meat.
How do I get thick chicken breast to cook evenly on the grill? Boneless chicken breasts work great on the grill if they are flattened slightly with a meat mallet to ensure that they cook evenly. If you're planning on serving your chicken with BBQ sauce, brush the sauce on during the last few minutes of cooking so the sauce doesn't burn.
Is there a trick for grilling hot dogs? For hot dogs, grill them on medium-low heat so that they don't burst. Roll them frequently on the grill to allow them to cook evenly.
What temperature should I cook burgers and steaks to? Cook all foods to their proper temperatures using an instant read thermometer. Ground beef should be cooked to 160°F, or until the centers are no longer pink and the juices run clear. Steaks should be cooked to 140°F for medium and 160°F for well-done.
How do I know when my burger is cooked? Ground beef should be cooked to 160°F, or until the centers are no longer pink and the juices run clear. Or use the "touch test" to gauge doneness. For medium, you want your burger to be firm with a little give.
How do I get my burgers to not puff up like footballs when grilling? Press the center of each uncooked burger patty with your thumb so the burgers don't puff up while cooking. If you press down on a burger that's puffing up while it is on the grill, all the juices will run out!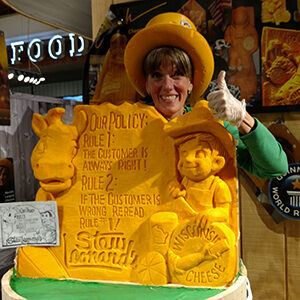 I Don't Know Who To
Root For?
Our Wisconsin farmers or the Jets with their new quarterback? We sell over 500,000 lbs. of cheese a year from Wisconsin, home of the Green Bay Packers. I know our cheesemakers in Wisconsin love Aaron Rodgers. What would you do?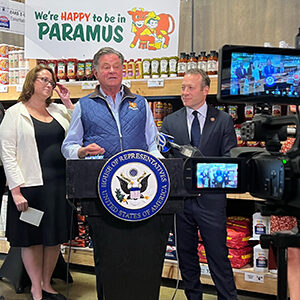 Food Labeling 101
I joined U.S. Congressman Josh Gottheimer at Stew Leonard's in Paramus earlier this week for a press conference about food labeling. He's calling on the federal government to standardize food labels. We want to label for flavor and quality. For example, our freshly squeezed orange juice is good for 10 days… but won't be as sweet in 10 days. We'd like to use the "best by" date. But then you'll also see use by, sell by, expires on… it gets confusing! People are throwing out their food too early and billions of dollars of food is wasted every year. During the press conference, I called Barbara Bucknam up to the podium. Barb oversees all of our food labeling. She did such a good job that WABC-TV called her Stew Leonard's "Freshologist!"
You Have Good Taste
In our poll last newsletter, we asked how you like the new newsletter format. 70% of you gave us the thumbs up!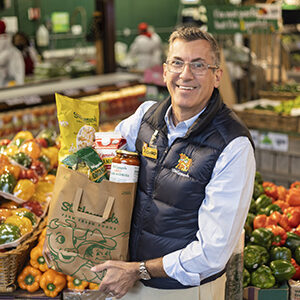 Up The Ladder - Rich Lung, Creative Director
Rich joined Stew Leonard's in 1984. He spent his first summer hand-painting the store's fresh dairy, produce, and meat signage, but it wasn't long before Rich said he felt like he had "milk running through his veins" and embarked on a career with the Disneyland of Dairy stores.
As Stew Leonard's Creative Director, Rich oversees the overall branding of Stew Leonard's digital and printed materials, advertising, and private label packaging. He is also responsible for the theming and visuals of Stew Leonard's new locations, including the in-house design of Stew Leonard's legendary animatronics. A personal joy for Rich is when he sees a Stew Leonard's reusable shopping bag that he's designed being used around town or even at the airport!
In his spare time, Rich is a volunteer with Stew Leonard III Water Safety Foundation and enjoys gardening, cooking, DIY projects, and traveling. Rich and his husband Nelito have been married for seven years and enjoy life with their two dachshunds, Lolita and Mia.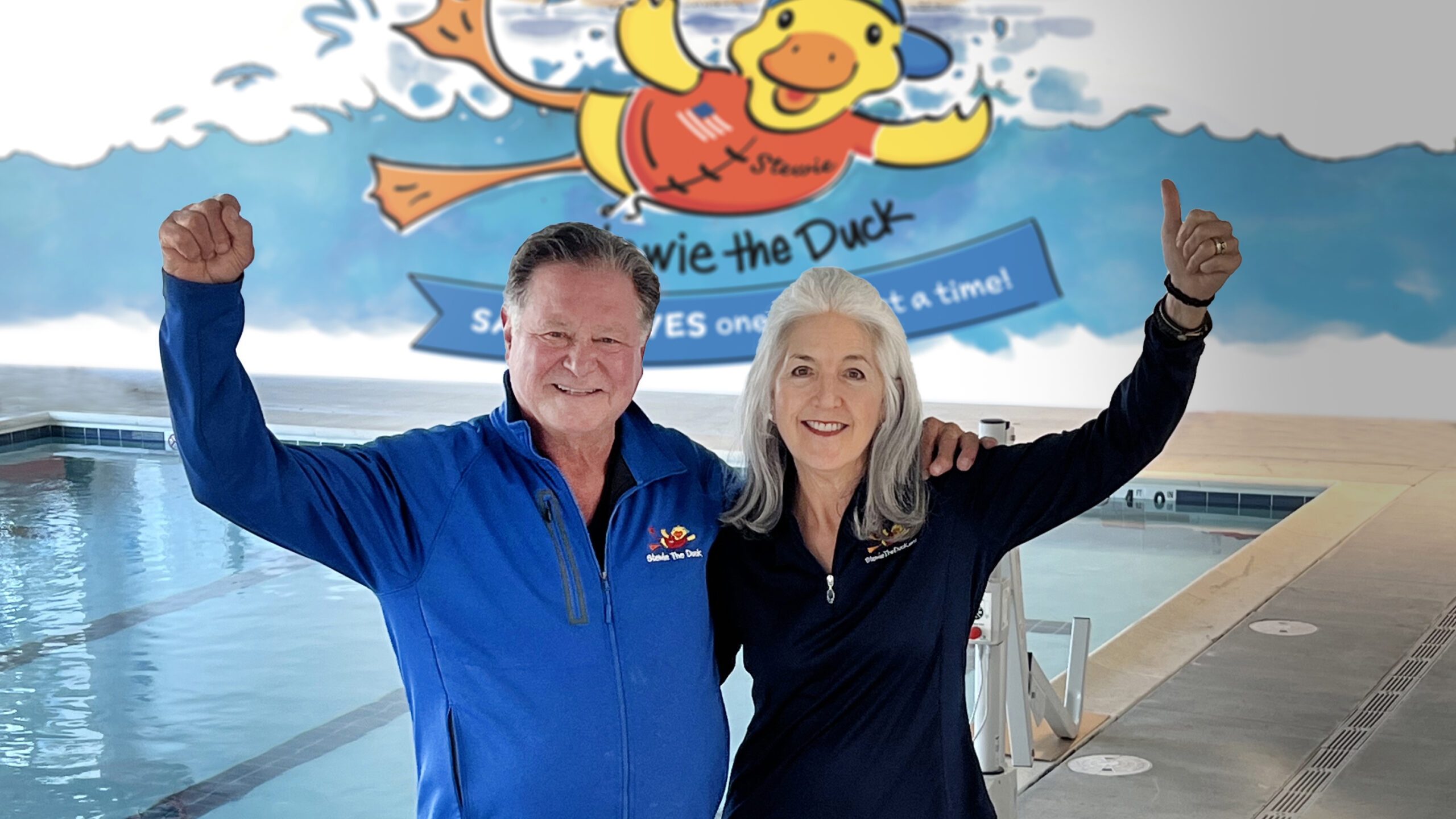 Sign Up For A Free Swim Lesson Or One Of Our Open Houses
May is National Water Safety Month. We can't think of a better time to launch pre-registration for swim lessons at Stewie the Duck Swim School. Classes start Monday, June 5th. We're hosting free open houses at the swim school on June 3rd and 4th from 12 - 4pm so children can come check it out, meet their instructors, and get some Stewie the Duck goodies. Go HERE to reserve your spot at one of our open houses.
To register for swim lessons, visit our newly designed website. Just click "Parent Portal" or "Register Here" to start the process. Not sure which level to place your child? Take the Assessment Quiz HERE. Get your first lesson FREE when you use the promo code "WELCOME!. Sign up today! We can't wait to see you at the pool!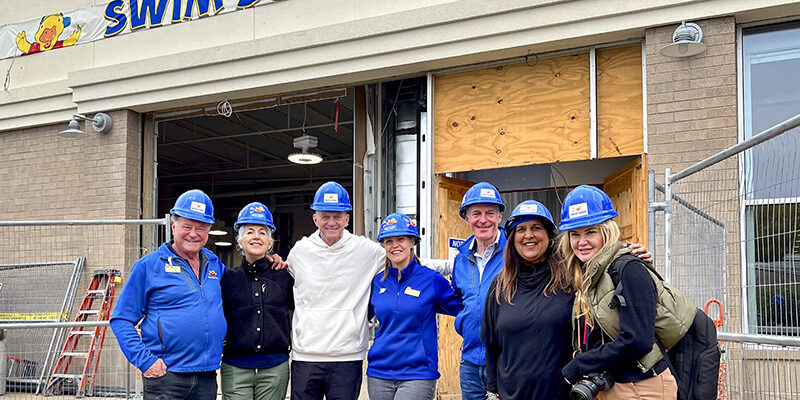 What's A Three-Time Olympic Gold Medalist Winner Doing In Norwalk?
In April, we were honored to welcome Olympic Triple Gold Medalist Rowdy Gaines to the Stewie the Duck Swim School! We loved learning about the incredible work he is doing with Step into Swim, which, like the Stew Leonard III Water Safety Foundation, provides swim lesson scholarships for thousands of children in need each year. We look forward to partnering with Step Into Swim to provide EVEN MORE swim lesson scholarships. More to come on that soon.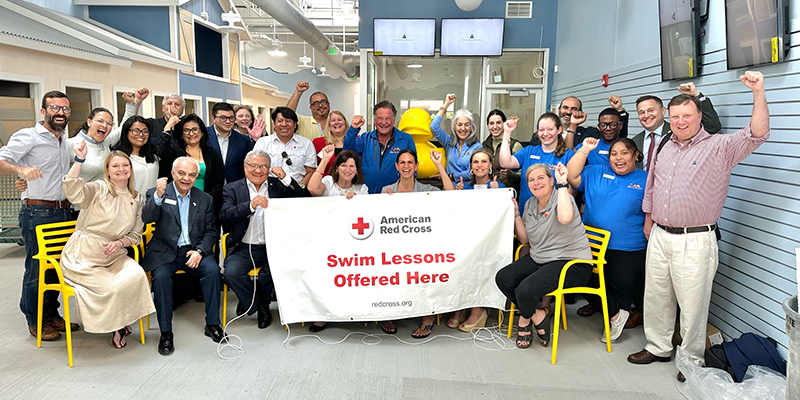 Which Curriculum? Red Cross Plus
All our instructors are certified in the Red Cross's swim instructor program. They have certified over 14 million instructors and lifeguards. We've slightly modified their curriculum to focus more on survival. Our son Stewie was face down in the pool when we noticed him. If, If, If, he was taught to roll over on his back (1st survival skill) things may be different for our family today. Our main goal is to teach this life-saving skill to your child.
On May 23rd, we were honored to welcome a team from the American Red Cross and representatives from their chapter in El Salvador at the Stewie the Duck Swim School and provide them a tour of the facility. We are thrilled to partner with the Red Cross and are so grateful for all the incredible work this organization does around the globe helping people in need.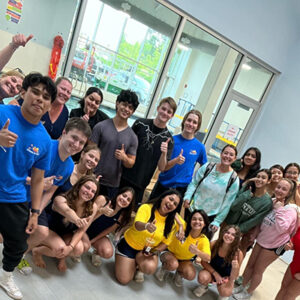 Recruiting Volunteers
Many customers have said they would like to volunteer since STDSS is a 501(c)3 charitable organization. High school students can get community service credit for their resumes too! Also, any seniors that have a passion for swimming, we'd love to talk! Please email us if you would like to help.
Making A Splash With
Wine & Food
One of my favorite events of the year, the Westchester Wine & Food Festival, is coming up in June. Not only are our Yonkers chefs competing in the Burger & Beer Blast on June 8th, but the live auction proceeds from the Festival's Wine Collectors' Dinner on June 10th will be donated back to our Water Safety Foundation. Click here to buy tickets.
Tick, Tick, Tick
Here's an update on construction: The pool is filled and WARM with 90-degree water! Our swim school team has moved in and we're BUSY putting the finishing touches on the facility. We can't wait to welcome everyone to the swim school in less than two weeks! The countdown is ON!
Make Up Lesson Dilemma
A big issue with other swim schools is their "make up lesson" policy. What if your child has a tummy ache the morning of their lesson? Doesn't feel well? We're going to treat this like the rock at our stores' front door (Rule 1, Rule 2…). We're going to be happy to accommodate you like we do our food customers. Fewer than 1% abuse the policy. Fingers crossed!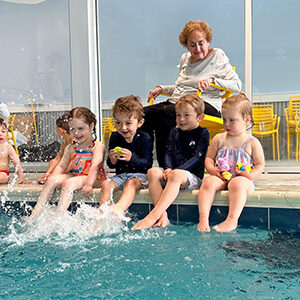 You Give $5, I'll Give $5

If you'd like to donate $5 a month for teaching a child in need to swim, I'll donate $5 and match your entire donation this year! Just $10 gives a swim lesson to a child in need so your gift WILL make an impact! Sign up here.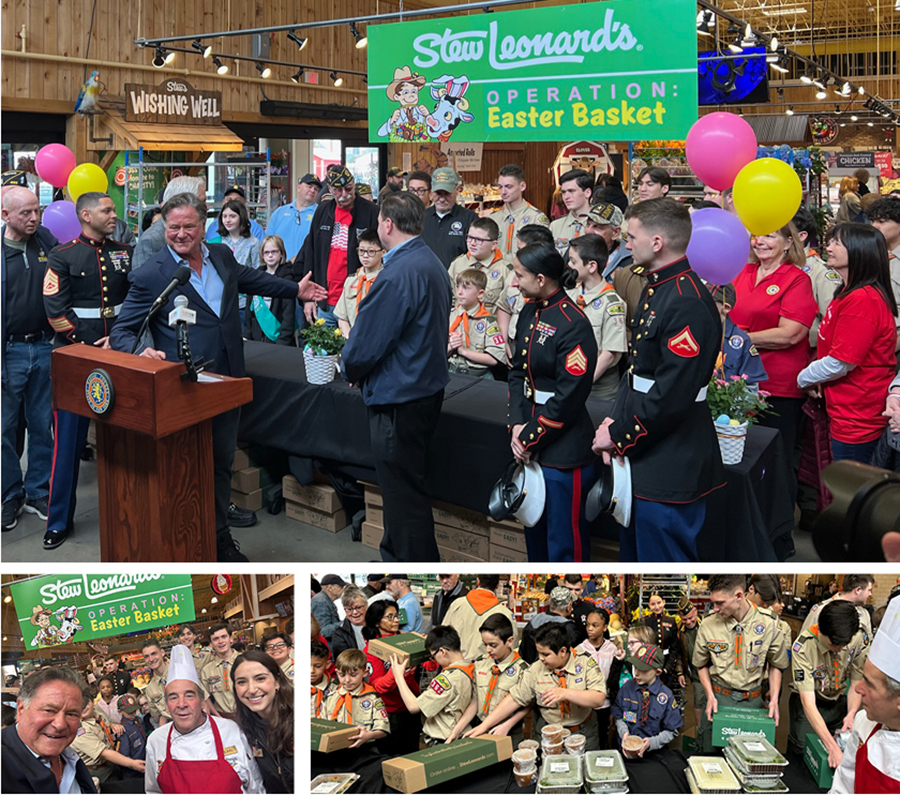 Operation: Easter Basket In Nassau County
We gave away 200 meals to needy veterans' families in East Meadow. I was amazed at the turnout and support from the community. The Boy Scouts were there, the Girl Scouts were there, and Nassau County Executive Bruce Blakeman attended also. I asked Bruce how he had so much energy and he said, "You can't hit a moving target!" I like that line.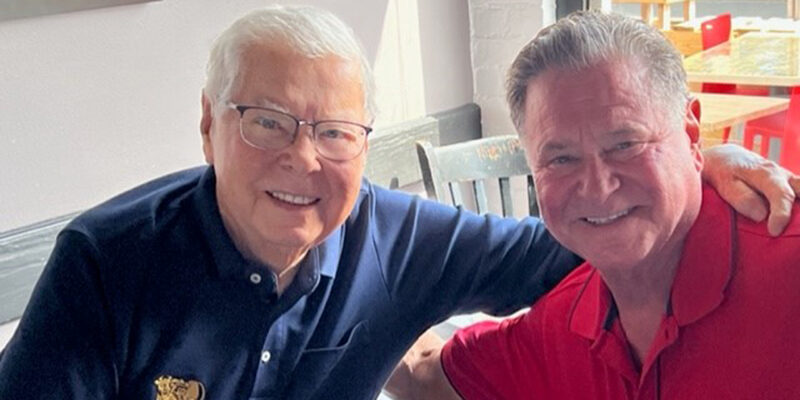 My Heart Battles With My Head
My Dad left our family with an incredible library that's filled with inspirational and motivational quotes about life. My head tells me to think positive and celebrate his active, creative, and colorful life. "Carpe Diem" (Seize the Day) was mentioned throughout. That's my head speaking. But my heart is grieving. I just lost my Dad and best friend. He was a legend. Dad, say "hi" to my son Stewie at Heaven's gate.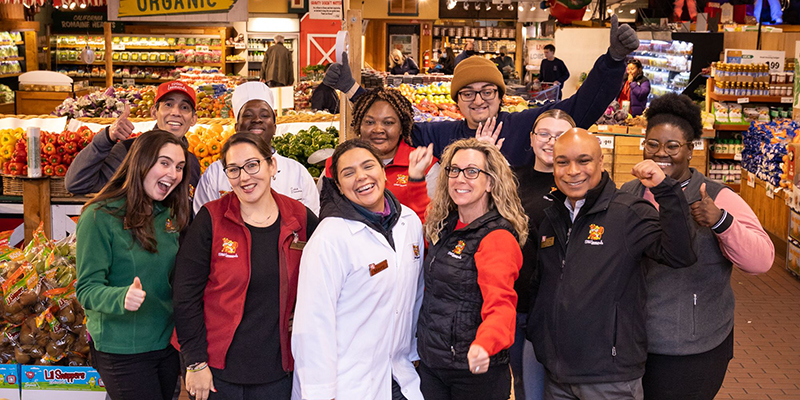 Do People Care About Being Appreciated
At Work?
This was reinforced when I met a new Team Member in East Meadow who worked for a supermarket chain for over 16 years. He's been at Stew's for three months and said he's had more appreciation from our management team than his entire tenure at the other supermarket. As my father always says, "A pat on the back is just a few feet from a kick in the pants, but it has a mile of different results."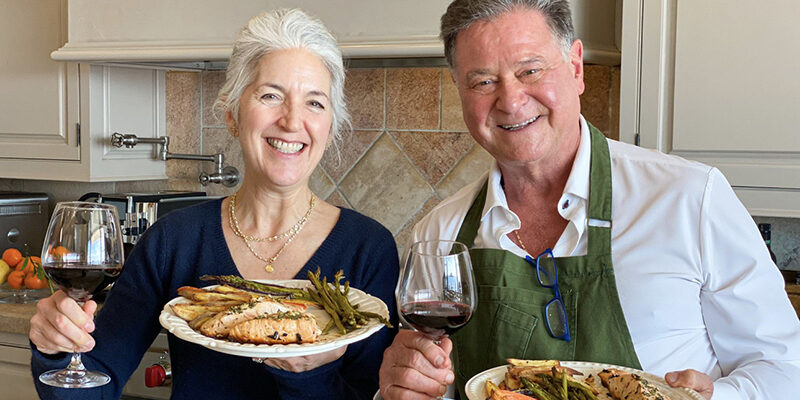 I Eat Salmon 5 Times A Week
Day in and day out it's our most popular fish sold at Stew's Seafood bars. Don't be afraid to buy the farm raised, which I now call ocean raised. I like it better than the wild. Here are 5 of my favorite recipes.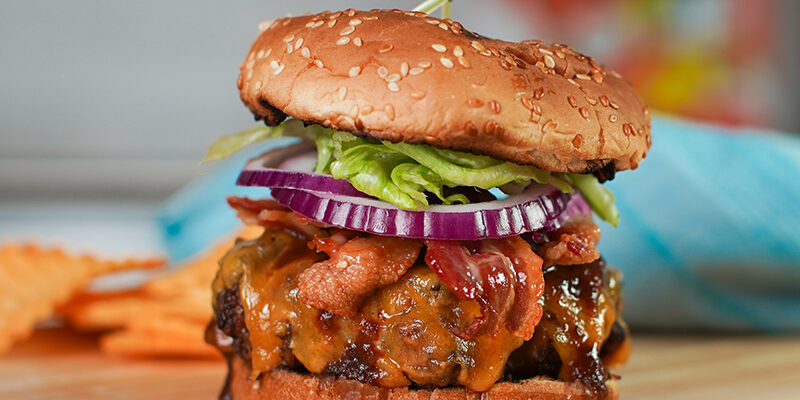 The Best Burger You've Ever Had
Our Yonkers store just hosted the kickoff for ticket sales to Westchester Magazine's 2023 Wine & Food Festival. Our chefs will compete in the Burger & Beer Blast on June 8, and I guarantee you, it'll be the best burger you've ever had! Chef Chris is making the burger using our NAKED beef, freshly sliced New York Sharp Cheddar, in-house smoked bacon, a slathering of our chef-made secret sauce, piled high with crispy onions. We'll give you the recipe after we've competed in the Burger & Beer Blast! My family and I are also honored that Westchester Magazine will donate the auction profits from their Wine Collectors' Dinner on June 9 to Stew Leonard III Water Safety Foundation. You can buy tickets to the Wine & Food Festival here.
Why Did Danny Wegman Call?
What a class act the Wegmans family is. After hearing about my dad's passing, Danny Wegman and his daughter Colleen called me to give their condolences. His father was an icon in the food business, also. We shared a lot of stories.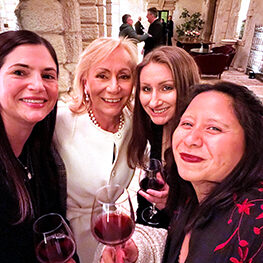 I Had To Cancel My Trip
To The Famous Wine Show
It was Vinitaly in Verona. But a team of 10 attended from Stew's. I've been bringing my daughter Blake to the show for years and she was able to step up and lead the charge. My biggest regret was missing a wonderful dinner hosted by Marilisa Allegrini at her winery. She's a huge advocate for women in business and rolled out the red carpet for our team. Thank you, Marilisa!
I'm Happy UCONN Won...
And I'm Sad UCONN Won!
We invited Senator Blumenthal to our swim school pool filling last month. Two days before that event, he went to the UCONN parade and broke his leg and had to cancel! I spoke to him and wished him a speedy recovery. He also sent his condolences about my dad.
Head Chef At Rao's
You won't believe who I bumped into in Yonkers. My friend Dino who's the head chef at Rao's Restaurant. What was he buying? One of the new frozen Rao's pizzas that we just introduced. Dino, how did you like it?
Making Customers Happy
East Meadow: A customer wrote, "I just had the most amazing experience at the store today and I just had to share it! I heard your ad for smoked hams on the radio and decided to pick one up later in the day. Unfortunately, they were sold out by the time I got there. But, Nelson, the sweetest employee behind the butcher counter, found me while I was finishing up my shopping and handed me a ham that he had put on the side (no doubt for himself). I was so surprised and grateful! As a General Manager myself, I know that kind of exceptional service is not something you can teach. Nelson genuinely wanted me to be happy and that's what made this experience truly incredible. Your store and its people are just awesome! Keep up the great work!"
How Did I Get 700
Friend Requests?
Since we started sharing Around the Store bite size posts on my LinkedIn page, it's gotten pretty popular. The top post was "Unbundling Post-Covid" and gained 200K impressions and 2K reactions. It's clear it resonates with people. Page views have increased by 50% and it's reached over 5K Followers. Nice to see that I'm reaching a wider audience in the industry. And, I have almost 700 Friend Requests that I'm still wading through!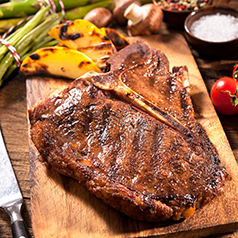 You Voted...Here Are Our
Top 10 Winners

With over 50 items and special moments to choose from, the competition was fierce. But you've spoken, and we've got some clear winners in 10 unique categories. Have you tried any of these fan favorites? Let me know in the comments!
I'm Thrilled With Our New
Roast Beef And Turkey
We sell it sliced at the store and it's better than anything you can buy at any deli. We use our in-store smokers and one of my favorites is a turkey sandwich on sourdough bread with hot and spicy mustard.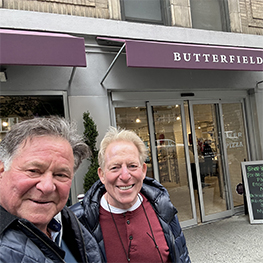 Visited Citarella And
Butterfields In NYC
Great stores and the owner of Butterfields, Allen, gave me a tour of both the Upper Eastside stores. I also had the chance to meet his son Evan. He told me that the mandarin chicken salad was one of his best sellers. Guess what you see at Stew's now?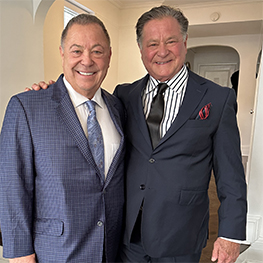 Bravo To My Brother Tom
He just celebrated his 24 years of sobriety. He's really active with AA and hits me with some great quotes. One of my favorites is, "If you walk a mile INTO the woods, you have to walk a mile OUT!"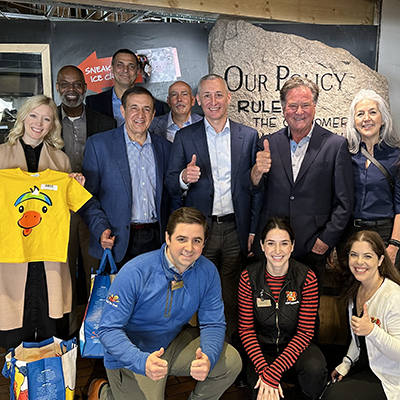 Bankers Aren't That Stiff
I did some ads for M&T BANK, which has been a great partner with Stew Leonard's over the years. I had put one of our live lobsters on John Parisio's shoulder for a recent commercial. We got his suit all wet! And we just had a visit from the CEO, René Jones, and got him dancing in front of the cow and pushing the "Moo" button. I love seeing our bankers smile!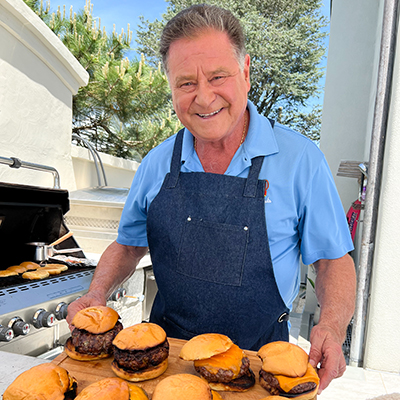 When The Temperature Hits 80 Degrees, This Happens At Stew's
The garden center explodes and so do all the grilling items. "Goodbye" ovens and "hello" outdoor grills. Take a bite of our top 5 selling burgers:
1st Place: Filet Mignon Burgers
2nd: Classic Chuck Patties
3rd: Cowboy Ribeye Burgers
4th: Sirloin Patties
5th: Organic Grass Fed Beef Burgers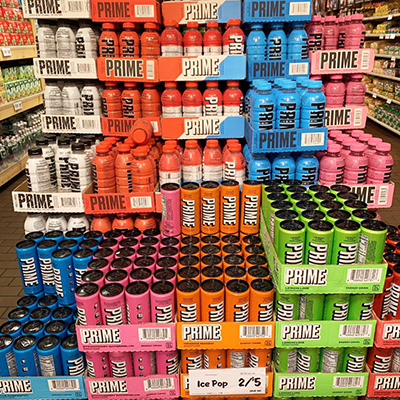 What's All The Rage About
Prime?
I see customers leaving the store with cases of this. It's the brainchild of social media personality Logan Paul who has 25 million followers on Instagram. Check them out at Stew Leonard's.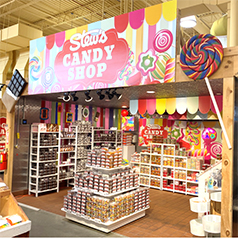 The NEW Stew's Candy Tubs Are Already Flying Off The Shelves
Ready for a treat that'll knock your socks off? Well, get ready to put on some new ones because Stew's NEW Candy Tubs are already flying off the shelves. We've sold over a thousand tubs, and they just came in last week! The idea came about as a result of our recent Dallas trip to Central Market – we saw all the fun chocolates in their store and decided to bring them to Stew's. We have every chocolate combo imaginable. I'm really looking forward to trying the Glazed Orange Slices.