During the month of March, more than 10,000 of Stew Leonard's shoppers cast their votes for more than 50 products and special only-at-Stew's moments in 10 unique categories. The results sparked a winning streak for some and heralded a few new fan favorites along the way!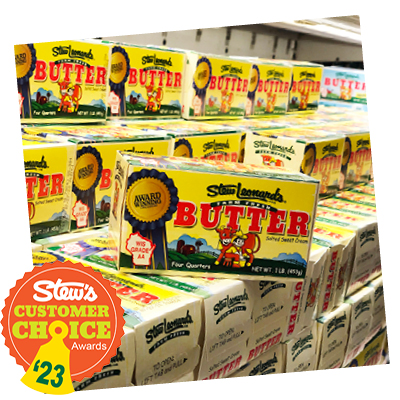 Stew's Farm Fresh Butter
The winner of last year's Best in the Fridge category, Stew's butter took home the gold as this year's favorite Dairy Product. Made using the freshest milk from cows grazing in the pristine pastures of Wisconsin, you betcha it was a shoo-in for top honors again this year!
OTHER FAVORITES:
• Stew's Organic Milk
• Stew Whip
• Stew's Cage-Free Eggs
• Stew's Christmas & Chocolate Bunny Milk

In 2022 customers bought 350,000 Packages of butter.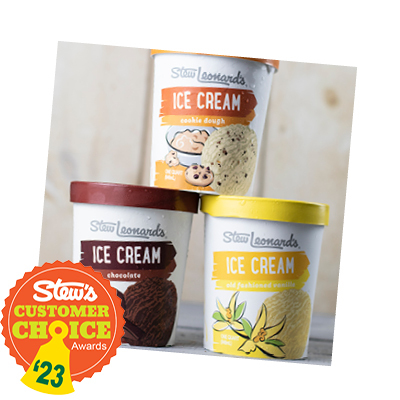 Stew's Soft Serve & Hand Packed Ice Cream
Holy Cow…that's fresh ice cream! Whether you're taking a cone to-go or loading your cart with our hand packed quarts, our soft serve and ice cream are must-buys when shopping at Stew's. Victory for our soft serve and ice cream is sweet, and that's why they've been crowned your Favorite Sweet Treat.
OTHER FAVORITES:
• Chocolate Chip Cookies
• Chocolate Covered Rice Cakes
• Cannolis
• Cheesecake
• Ice Cream Sandwiches
• Caramel Popcorn

In 2022 we sold 75,000 Quarts of ice cream.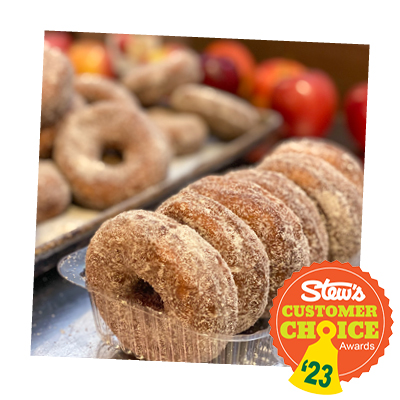 Apple Cider Donuts
It's the sweet smell of success for Bethy's famous Apple Cider Donut Holes yet again! They captured the greatest number of votes in the Best Sweet Treat category in 2022 as well as in the Fresh Favorite from Bethy's Bakery category in 2023.
OTHER FAVORITES:
• Snowball Rolls
• Sourdough Bread
• French Baguettes
• Bagels
• Country Hearth Bread

300,000 Packages of our apple cider donuts were sold in 2022.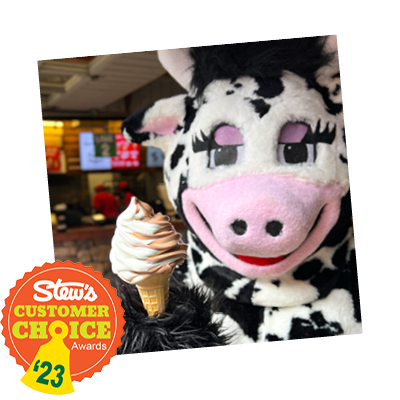 Scoring A Free Ice Cream Cone
Ok, we get it. You REALLY like our ice cream! For the second year in a row, scoring a free cone with your $100 purchase or more – easier to do now more than ever with our app – earned top marks as the Best Memory-Making Moment at Stew's. (The 1.5 million free cones we give away annually might have tipped the scales in this category.)
OTHER FAVORITES:
• Meeting Costumed Characters
• Pushing Animatronic Buttons
• Visiting The Little Farm
• Stew's Pumpkin Patch
• Christmas Tree Shopping
• Meeting "The Real" Stew Leonard

In 2022 we gave away 1.5 Million free ice cream cones.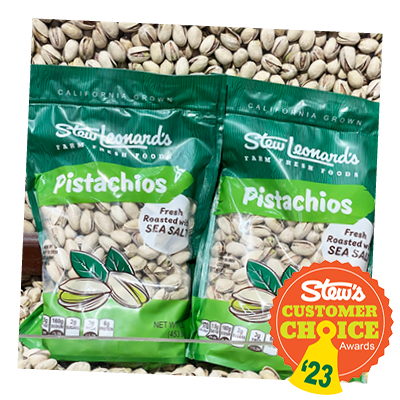 Stew Leonard's Pistachios
You know what's not a tough nut to crack? Why our shoppers love Stew Leonard's pistachio nuts as much as they do! Grown on family farms in California's San Joaquin Valley, Stew's pistachios are naturally tree opened, freshly roasted, and seasoned with sea salt. They're addictive and they're your Favorite Salty Snack at Stew's.
OTHER FAVORITES:
• Sweet Potato Tortilla Chips
• Organic Popcorn
• Peanut Butter Pretzels
• Tortilla Chips

In 2022 our customers enjoyed 100,000 Pounds of pistachios.

Stew's Fresh Mozzarella
Made from scratch every day on the floor of our stores, fresh mozzarella is one of the greatest shows to see at Stew's – and that's why it took home the gold in the Best "Made Fresh Before Your Eyes" category. Our cheesemakers stretch more than 300,000 pounds of award-winning mozzarella in-store annually! Stew's Tip: The best way to warm up a Stew's mozzarella ball? Just place it in warm water (still in the plastic wrap) for 5-10 minutes to enjoy its light and milky taste.
OTHER FAVORITES:
• Chunky Guacamole
• Stew's Kettle Chips
• Rice Cakes
• Fruit Bowls

In 2022 we sold 200,000 Pounds of our fresh mozzarella.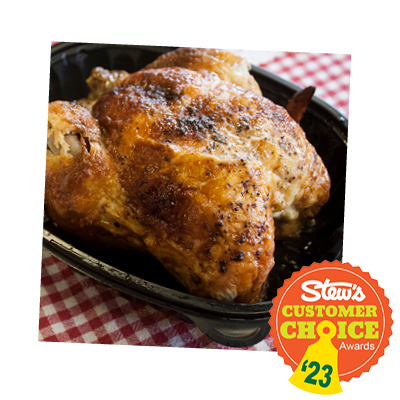 Stew's Naked Rotisserie Chicken
Winner, winner…chicken dinner! Our all-natural Naked Rotisserie Chicken is certainly giving our shoppers something to cluck about as the winner in the Best "I'm in a Rush" Grab n' Go Item category. Direct from family-owned farms in Lancaster County, Pennsylvania, this vegetarian-fed chicken is free of antibiotics with no added hormones.
OTHER FAVORITES:
• Mac & Cheese
• Grilled Shrimp
• Family-Sized Salads
• Grilled Chicken
• Parmesan Herb-Crusted Chicken
• Stew's Chicken Salad
• Wings

In 2022 we sold 200,000 rotisserie chickens.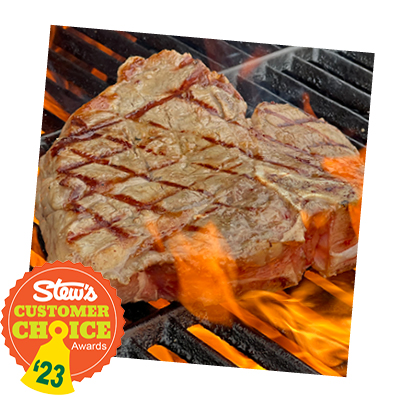 Porterhouse & Rib Eye Steak
Turns out that our ranchers' favorites are your favorites, too! Our Ribeye and Porterhouse steaks come directly from family-owned ranches in the Midwest, and they're your #1 choice for what's going on the grill.
OTHER FAVORITES:
• Whole Filet Mignon
• Chicken Burgers
• NY Strip Steaks
• Stew's Naked Chicken

In 2022 our customers grilled 300,000 Pounds of ribeye steaks.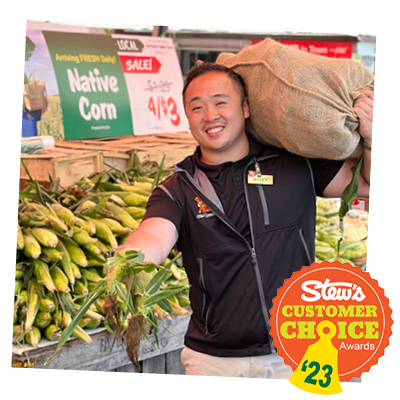 Local Corn
Last year's Favorite Produce Item winner and this year's Best Fresh from the Farm winner is our local corn. By mid-summer, Stew Leonard's Local Corn is coming direct from farms in New Jersey, New York, and Connecticut, and it's so sweet that you don't even need butter. Every season, more than a million ears of it make it from our stores to your table.
OTHER FAVORITES:
• N.Y. State Apples
• Washington State Jumbo Cherries
• Strawberries
• N.J Asparagus

Last year, Stew's sold Over 1 Million Ears of local corn.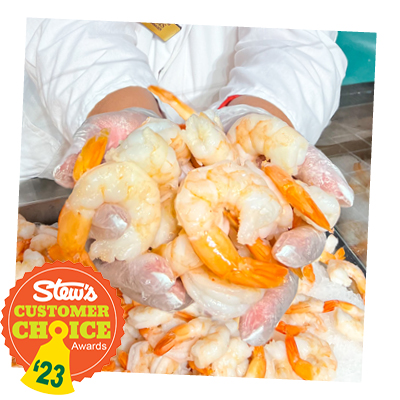 Shrimp
If it was any fresher, it would still be swimming! Stew's shoppers scoop up more than half a million pounds of fresh shrimp at our seafood bar every year, making it the big winner in the Fresh from the Docks category.
OTHER FAVORITES:
• Stew's Naked Salmon
• Lobster Tails
• Lobster Rolls
• Local Scallops

In 2022 we sold 550,000 Pounds of shrimp.