Stew's Has Your Perfect Pumpkin
Sourced from local pumpkin growers throughout the state of Connecticut, Stew Leonard's will sell more than a half a million pumpkins this fall, including mini-pumpkins, sugar pumpkins, gourds and gourmet pumpkins! Families from all over the region will come to Stew's Garden Centers to select their pumpkins for carving, displaying and cooking during the harvest season.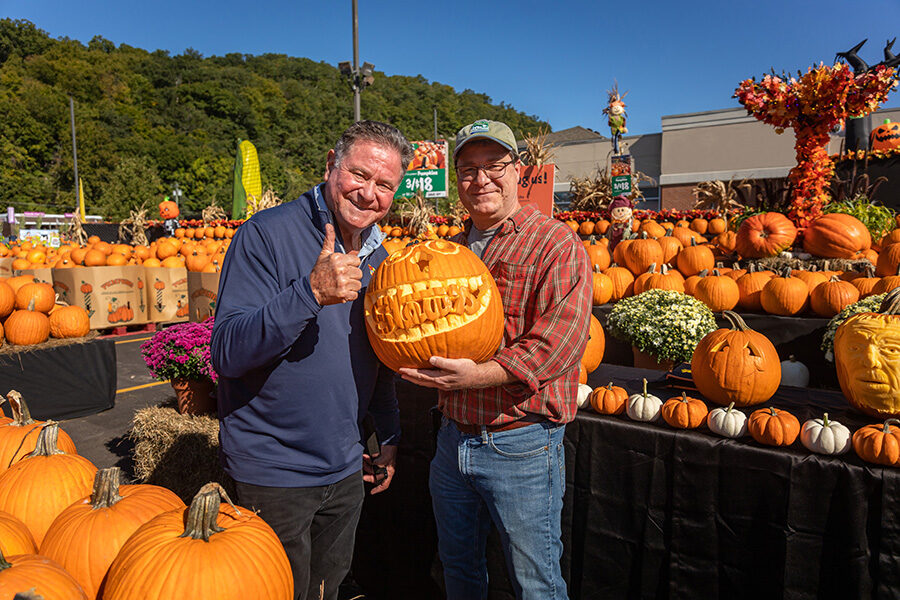 Picking The Right Pumpkin
Not all pumpkins will be carved into jack-o-lanterns this fall. In fact, more than half of pumpkins sold this season will be of the "gourmet" variety, perfect for baking, cooking, and even decorating everything from the front stoop to a tabletop.
• Magic Lantern pumpkins are great for carving into a classic jack-o-lantern, offering a brilliant orange color and classic sturdy green stem.
• Sugar pumpkins, or "pie" pumpkins, are much smaller in size and are great for kids' decorating projects or for use in the kitchen. Hollow them out to make festive bowls for squash or pumpkin soup.
• The tear-drop shaped Hubbard Squash weighs in around 20-30lbs and has a bluish-gray skin. Use the Hubbard Squash as a substitute in winter squash recipes.
• The old-fashioned looking Fairytale Pumpkins average around 20-30lbs each.
They have a tan outer coloring with a deep orange flesh.
• Cinderella Pumpkins are 20lbs each and have a bright orange-ish/red skin.
• Ghost pumpkins are all white, making for a chic decorating alternative to the classic orange. They also have an extra-spooky appeal when a candle is placed inside of a carved out one.
• An "heirloom" variety of pumpkin, Long Island Cheese pumpkins are great for making pumpkin pies. They have a smooth tan skin and top out around 15lbs.
• With a rich, reddish/orange color, the Red Warty pumpkin has a bumpy exterior but a sweet and string-less flesh, making it great for eating.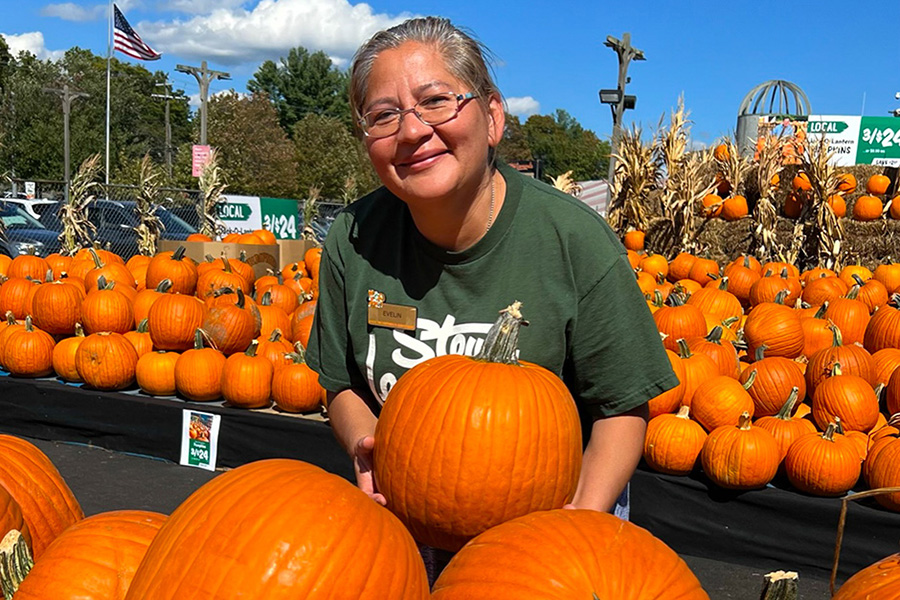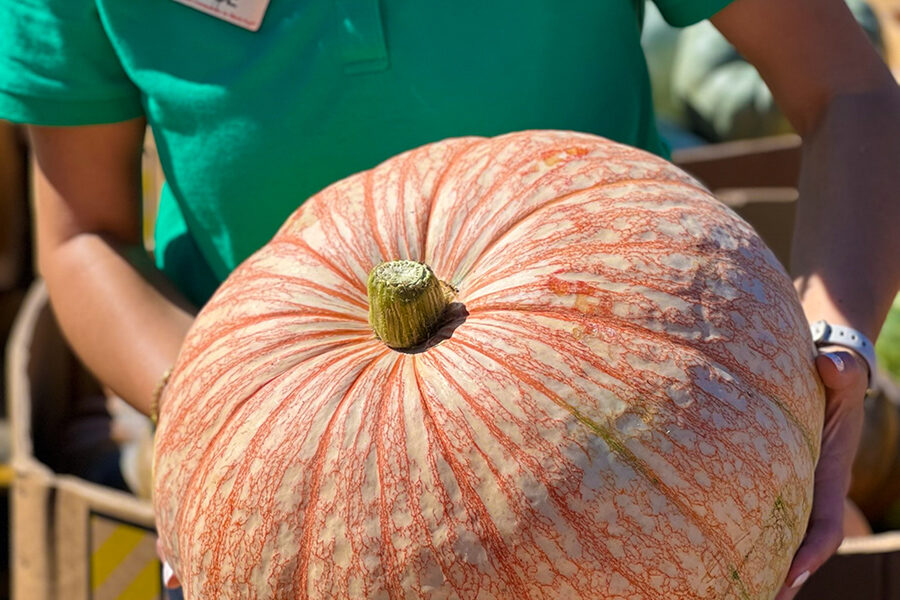 How To Make Your Jack-O-Lantern Last
For parents hoping to make their child's Jack-O-Lantern last until Halloween and beyond, Stew Leonard's Garden Center experts have a few easy tricks to help keep a carved pumpkin looking its best:
• Apply a generous scoop of petroleum jelly to the inside of your carved pumpkin, especially any cut areas. This will help keep it firm for weeks.
• Mix together equal parts of lemon juice and water and spray on both the inside and outside of your pumpkin. The acid mixture helps preserve your pumpkin and hardens the outside for increased protection against cold, wind and rain.
• Cover the pumpkin in vegetable oil to prevent decay and shriveling. Pumpkins tend to shrivel because of too much oxygen, and vegetable oil acts as a protecting agent.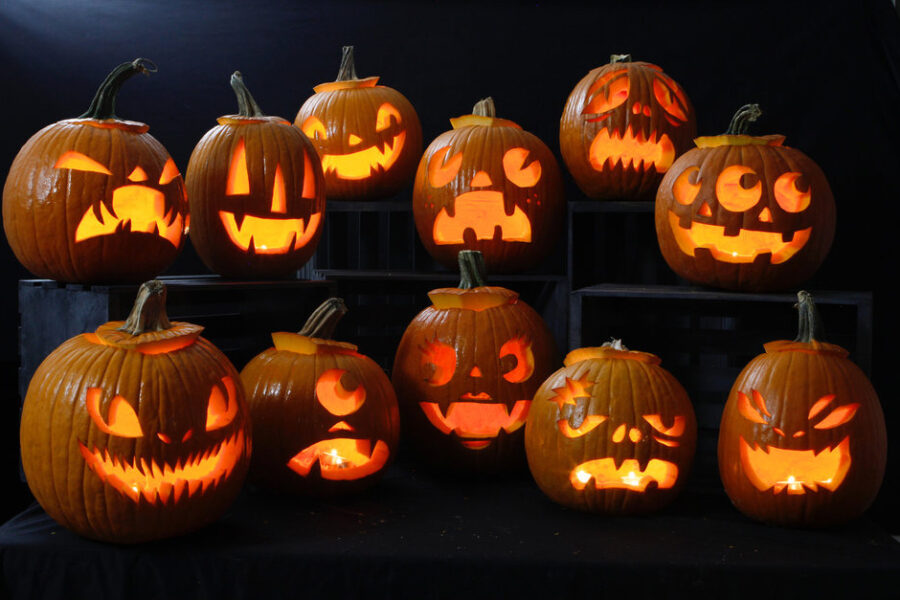 Fill Your Garden With Color
From vibrant pinks and purples to rusty oranges and reds, mums offer a pop of autumnal color to your garden, front porch, and more! Stew Leonard's mums come directly from our local growers, including DeFrancesco Farms and Geremia Farms in Connecticut as well as Plainview Growers in New Jersey.
Meet Our Growers
DeFrancesco Farms
A fifth-generation family-owned farm in Northford, CT, Joe DeFrancesco has been a trusted farmer of Stew Leonard's since 1980. Joe and his sons tend to more than 120 acres of land with beautiful greenhouses filled with plants and flowers.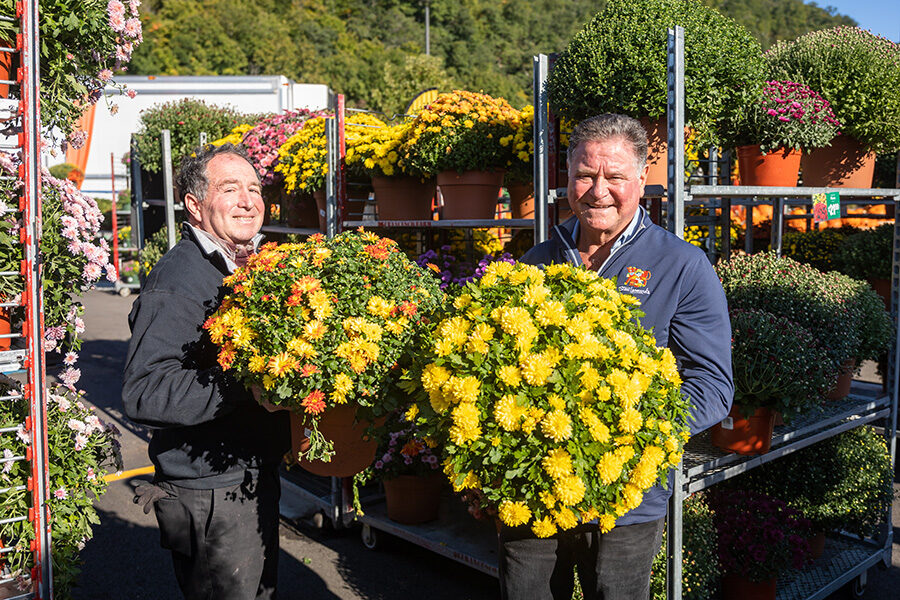 Mums FAQ
What color will this mum be?
It's almost impossible to say what color a mum will be unless you see the fully opened flower. The bud may be a bit deceptive! Look for a mum that has at least one bloom fully opened to get an idea of the color.
When should I trim back the blooms?
Mums will usually have two to three sets of flowers. Planted mums should be trimmed three times during the growing season to keep the plant compact and shaped nicely. Potted mums won't need much trimming; just clip off flowers that are burnt or brown if you have new buds on the way.
Can mums survive a frost?
Yes, but the flowers that are in bloom may get burnt. If that happens, remove the burnt ones so the next flush can bloom.