Stew Leonard Sr. 1929-2023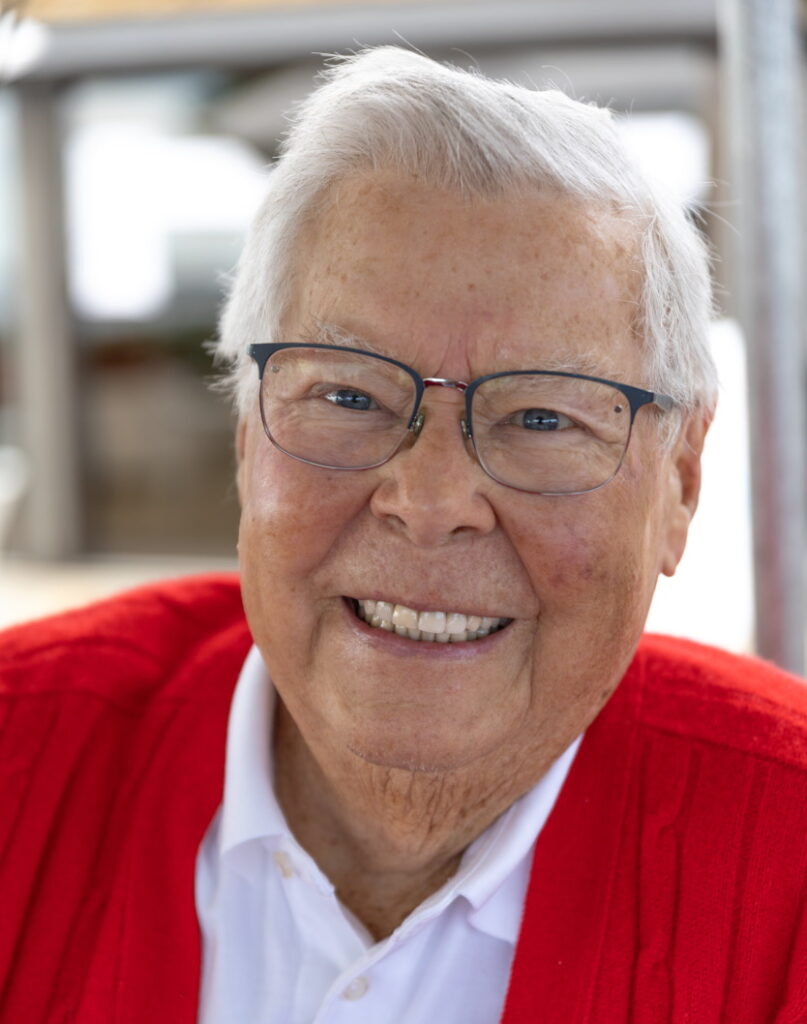 Stew Leonard, Sr., of Westport, CT, 93, the founder of one of the most famous food retailers in the world, Stew Leonard's, passed away peacefully on April 26, 2023, at Lenox Hill Hospital in New York. Born in Norwalk, CT, on December 1, 1929, to the late Anna Stewart Leonard and Charles Leo Leonard, he is survived by his wife of 70 years, Marianne Guthman Leonard, and their four children, Stew Jr. (Kim), Tom (Karen), Beth (Bill) Hollis, and Jill (Rocky) Tavello. He was predeceased by his siblings Leo (Margery) Leonard, Helen (Allan) Van Liew, Marion (Jerry) Murphy, James (Frances) Leonard, Anna Lane (Edward) Arthur and Dorothy Leonard, as well as his brother-in-law Stephen (Roberta) Guthman and his grandson, Stewart Leonard III.

Stew leaves behind 13 grandchildren: Blake (Edouard) Arbellot, Ryann (Matt) Grossbard, Chase Leonard, and Madison Leonard; TJ (Sarah) Leonard, Emma (Bobby) Johnson, and Jennie Lynne Leonard; Sarah (Matthew) Leclerc, Will (Rachel) Hollis, and Andrew (Alesha) Hollis; and Jake (Jennifer) Tavello, Brittney (Paul) Melitsanopoulos, and Rex (Catherine) Tavello. He was also the proud "Papa Stew" to 11 great-grandchildren: Romeo, Axel, and Ines Arbellot; Ava Hollis; Leo and Remi Hollis; Brayden, Hudson, and Cameron Leclerc; Zoey Melitsanopoulos; and Max Tavello. He is additionally survived by his brother-in-law Frank (Patty) Guthman and many nieces and nephews.

A graduate of Norwalk High School and of the University of Connecticut's School of Agriculture, Stew first worked for his family's dairy business at Clover Farms Dairy in Norwalk. It was a state-of-the-art dairy by the standards of the time with a pasteurizing and bottling plant, and fresh milk delivered daily by trucks that had plastic cows on the front that "mooed" for the neighborhood children.
In the late 1960s, Stew realized the milk delivery business was going the way of the iceman. His belief that it was time to start something new was driven home when the state informed him that Clover Farms Dairy was in the path of a new highway. His dream was to build a retail dairy store where children could watch milk being bottled, while parents did their shopping in a farmer's market atmosphere. In December 1969, Stew Leonard's opened its doors-a 17,000 square foot store carrying just eight items.
The dairy store Stew founded in Norwalk not only became the "World's Largest Dairy Store," according to Ripley's Believe It or Not, but also earned a place in the Guinness Book of World Records for having the highest dollar sales per square foot of selling space. The company has also received worldwide acclaim for excellence in customer service and quality and is featured in two of management expert Tom Peter's books: "A Passion for Excellence" and "Thriving on Chaos".

Stew was presented with Presidential Award for Entrepreneurial Excellence in 1986 by former President Ronald Reagan and gave the keynote address to the National Speakers Association. Throughout the course of his life, Stew was consistently recognized by his peers and the media for excellence in retailing and entrepreneurship. He was named "One of the Top 50 Visionaries" by Supermarket News in 2002 and additionally received the Entrepreneur of the Year Award (Ernst+Young and Inc. Magazine), the International Friendship Award (Dale Carnegie), and numerous others. Stew was also presented with an honorary doctorate by the University of Bridgeport in 1987.

Stew remained a prolific writer throughout his life and published a memoir, "Stew Leonard: My Story," in 2009. He loved spending time on Long Island Sound and won the 1956 North American Water Ski championship and set a world and national record in point totals for trick water skiing in 1959. He additionally invented and patented a device called the "Skee-Trainer," which was attached to a tow rope and was designed to teach people to water ski, and he taught people of all ages to water ski.
However, one of Stew's favorite things to do throughout his life was to stand at Stew Leonard's front door to greet customers, oftentimes by name. He loved giving back to the community and had a giving heart. He was a member of the Norwalk Chamber of Commerce, among other local groups.
Today, Stew Leonard's has grown to become a $600 million family-owned and operated business with seven farm fresh food store locations and more than 2,500 Team Members, who Stew considered to be Stew Leonard's greatest assets. It was also named as one of FORTUNE magazine's "100 Best Companies to Work For" for ten years in a row. The company is run by Stew's son, Stew Leonard, Jr. with help from his siblings Tom Leonard, Beth Leonard Hollis, and Jill Leonard Tavello. Five of his grandchildren have also joined the business.

A public visitation will be held on Monday, May 1, 2023, from 3-7 p.m. at St. Matthew Church at 216 Scribner Ave, Norwalk, CT 06854; Collins Funeral Home is assisting with these arrangements. The memorial service and burial will be private. In lieu of flowers, donations in Stew's memory may be made to the Stew Leonard III Water Safety Foundation, a 501C3 charity which helps to fund swimming lessons for children in need, in honor of his grandson who drowned in 1989. Condolence messages may be mailed to Stew Leonard's, 100 Westport Avenue, Norwalk, CT 06851.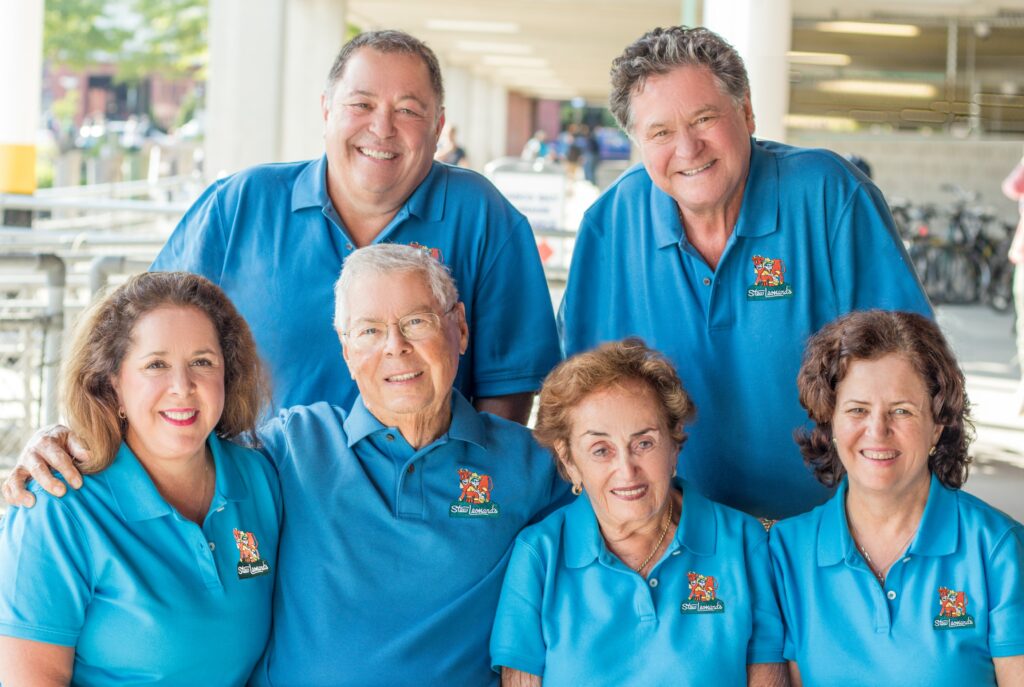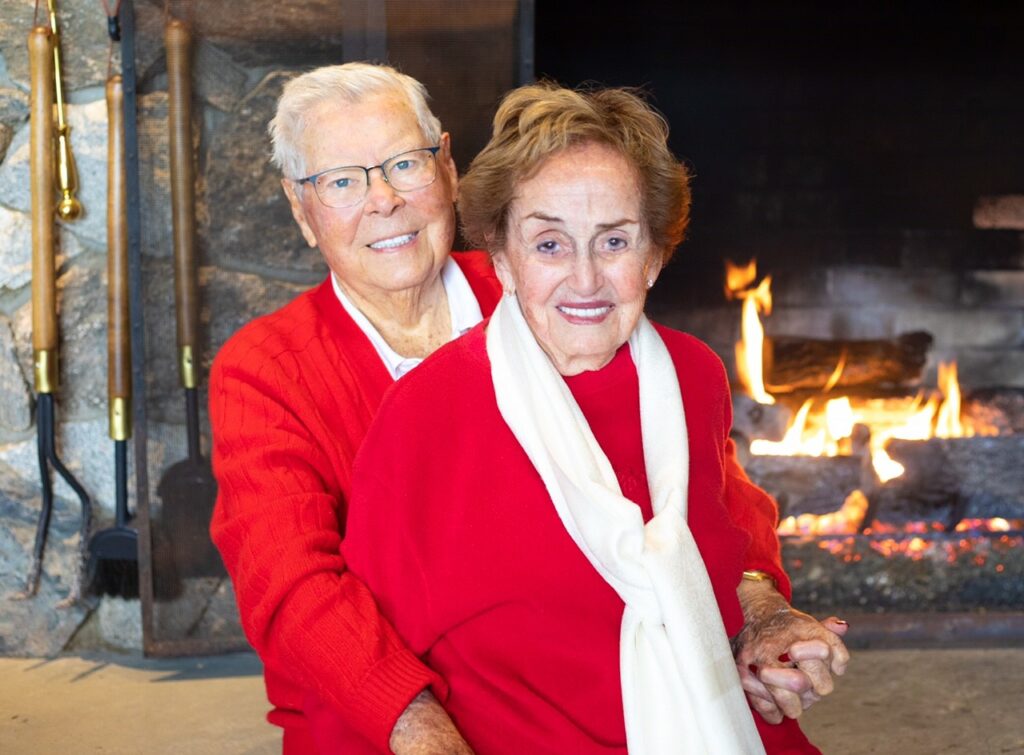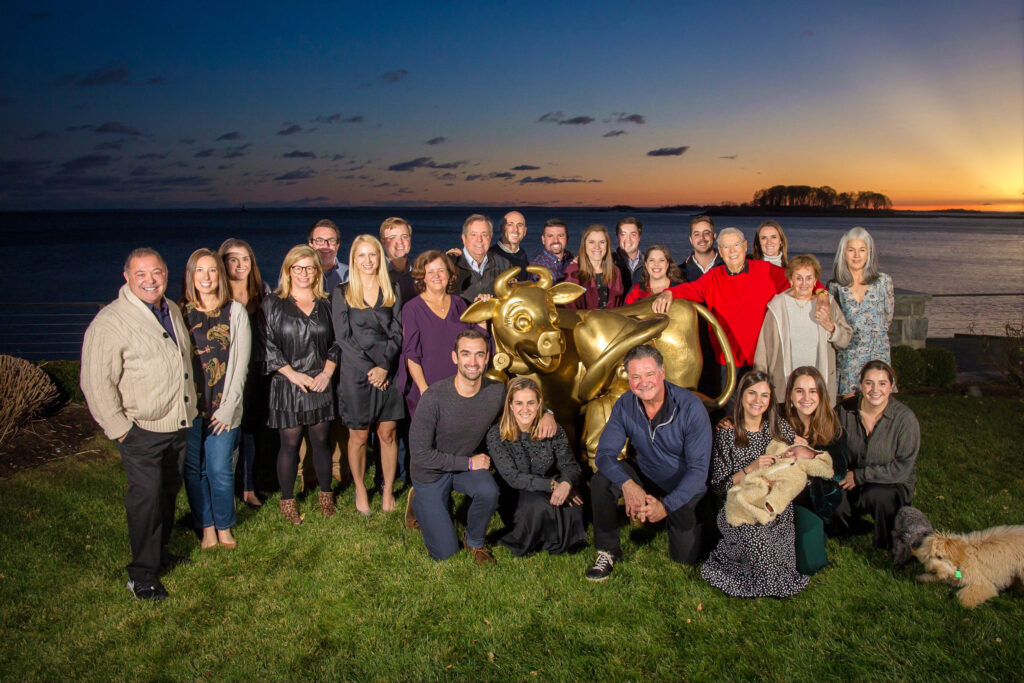 Comments (6,275)
My deepest sympathy to all The Leonard Family. Thanks to Dad for our wonderful store in Farmingdale. Love it and all the wonderful people that work there.
Dear Stew Jr and family, I am so sorry to hear about your Dad's passing. As a frequent visitor to your stores (Yonkers and Norwalk) I have always felt your family's closeness with the photos and little vignettes about your Mom, Dad, sister, brother and nephew. I loved it when you personally visited and I could shake your hand. I like your Dad's book about his life and your Stewie the duck which turned a tragedy into a source of help for other families. You have my heartfelt sympathy. Your Dad is in heaven surrounded by angels and God's love. He was truly a remarkable person and a fine example of one who accomplished the American dream while here on earth. May he rest in peace. Carol
Thank you for giving the tri state area what is the best not only food store ever but countless memories of bringing my children and now my grandchildren to experience it themselves. You will be missed! God bless your family.
So very sorry for the loss of your dad . He sounds like an amazing dad and what an inspiration in your life . Keep his memories close to your heart and try to walk in his foot steps . Inam sure he will be looking over and watching you and your family ❤️
I am so sorry to learn your lovely father has passed away. I see his smile. How lucky you were to be his son and to have had the opportunity to grow such an inspiring business. I live in NJ now but every time I visit friends in CT I make sure I stop at your Norwalk store. Fondly, Rita P
My deepest sympathy. Truly an icon. I remember going to Stew's in Norwalk in the early 90's with my niece- she called it the "moo cow store ". I was thrilled when you opened in Newington and I'm a loyal shopper. His legacy will live on. ❤️ Candis
Wishing the family comfort in the time of sadness. Stew Leonard's brought many people joy. My mother introduced me to the store and later my husband and I would drive from Brooklyn to Connecticut, so that our 3 children could shop and pet the cows. They would get the ice cream and we would eat the BBQ. It was a lovely store with fresh produce, meats, and breads for reasonable prices. We loved it! Rest in Peace Mr. Leonard.
I am so sorry for your loss. He was a brilliant man, He will be missed dearly, but never forgotten
My deepest sympathy for your loss. I share your sadness because I too lost my Dad. It's a heartbreaking experience. A Dad leads the way and helps to pave the paths in our lives. Losing a Dad is earth shattering. However, it's the wonderful memories with our beloved Dads that keep their spirits always in our hearts. My thoughts and prayers are with you and your lovely family. May God give you strength in your time of grief. 🙏🙏 Shea
I am so sorry for your loss my deepest sympathies and condolences…I love
stew Leonard's I remember when I was a kid and the store was so tiny loved the animals so much - Giovanni
My Sincere Condolence to you and your family. May you find comfort in each other and cherish the memories of your dad,grandfather and husband. I will keep your family in my prayers for strength as you go through this difficult time in your life. - Shauna
Having lost 2 amazing parents that I was lucky to have for so long, I understand your loss. A friend, a mentor, a guide, a trusted relative, a huge love of your life. I am so sorry for your loss, it hits you on so many levels beyond the shock that the time has ended. Carry the memories, cherish the moments that bring him back into your heart, honor him, and be grateful for having him for so long. You have been blessed. Phil West Hartford, CT
Sorry for your Family loss Hope all the great memories of your Dad will get you threw these tuff times
Sorry to hear about the passing of your patriarch. May his memory be a blessing always. The Hacker family of Hartsdale.
Our family is so sorry for your loss, my mom is 91 I can't think of ever being without her
So sorry for your loss! He'll always be in your heart ❤️
I am so sorry to hear about the loss of your dad. I didn't know him… I knew the store. Just that alone shows what a wonderful feeling your dad put into it. Loyal customer… RUTH.
What a full life, the memories will provide comfort. Rest in eternal peace.
Stew Sr was one of a kind. When I first started in Norwalk he was such a mentor to me. His eye for details was second to none. Working the Leonard's for 44 years I felt that I was part of the family and I will miss him. My deepest sympathy goes out to all of you especially Mrs Leonard. Love you all Tom
Our hearts go to your family,, we wish strength in these hard times. I used to work for Stew Leonards, and the history is like no other, it was my pleasure knowing I was working for a man like him. 🙏 God Bless You!
I am so sorry for your loss. Sounds like a great man who created a great family and also a great business! Keeping you all in my prayers
My deepest condolences on the loss of your dear father. He was such a great man. To have started a great business and raise a great family. Always remember the great times shared with him. 🙏
I saw the photo of your smiling dad! He looked so happy and kind in the picture. It is extremely hard to lose such a patriarch ! You must have all his qualities of being kind and being all about family. Your eyes twinkle as did his. Our family loves your store and we frequent it often. I lost my dad when he was young - he was in the Navy 22 years- I can still tear up to this day. May you find comfort in the memories and the laughs you shared as you carry on his legacy. With sincere condolences, Gayle and Gary Prospect, CT
Very sorry for your loss. I had the pleasure of meeting him once and he was a very inspirational and charismatic man. My prayers are with you and your entire family
"I'm so sorry for the loss of your dad, I will continue to keep you and your family in my prayers…may GOD continue to bless you, your family and your wonderful business… I truly enjoy shopping there. 🙏🏽🙏🏽🙏🏽"
To the Leonard Family....my thoughts, love and prayers to you all during this difficult time. How wonderful that you were all blessed to have him for as long as you did and may his legacy live on within you all. May he always remain close in your heart and may he rest in peace. Warmest regards, Cherylynn
Milk Bottles Who remembers milk bottles? Only us (pains me to say it) old timers. Real glass-hefty glass at that, with that cardboard cap sealing it in. I am not quite sure how that cap stayed tight and made a good seal, but somehow it did. The milk wasn't homogenized back then. The cream floated to the top. If you wanted it "homogenized" you gave it a good shake before you opened it. Or if moms or dads wanted some in their coffee, they would open it first and pour some cream into their coffee. Coffee meaning that godawful stuff they made in a percolator back then. Now back then in the early sixties people still had fresh milk delivered right to their door steps. I remember that delivery guy with the Clover Farms van that would leave milk on our porch every week. I remember once being on the porch when he rolled into our driveway. So how's the family he asked as he placed the four quarts of milk (in real glass bottles) on the porch floor. There're all fine, I said. Your sisters are good? Yes, they're good thanks. I was the youngest of five. My sisters were 13 and 14 years older. They all knew each other back in the old days, way back to the days of water skiing and ski jumps. Of course, milk delivery is a thing of the past, but that delivery guy stayed in that business. He sold a lot of milk!!!! R.I.P. Stew Wayne Lysobey 4/29/23
I'm so sorry for your loss. I am from Westport, went to Staples. My mom is 93, still living in Westport. Stew Leonards has been a part of our lives for so long now. We really appreciate your store. My children are grown now, but when I visit them or they come home, they always appreciate "a little something" from Stews. Thank you for continuing to honor your father's memory & being part of our lives.
I am very sorry for your loss and RIP. We are so thankful for all he has done with starting Stew Leonard's. Some of the happiest memories from my early childhood are from our visits to the Norwalk location we would go to when visiting our family friends in CT.
My thoughts and prayers are with you all as you reflect on the full life of Husband, Father, Grandfather , Great Grandfather, Uncle, Brother, Brother in Law. Rest in Peace Mr. Leonard. Thank you for your vision and providing not only quality products and service, but for creating an atmosphere that makes for a memorable experience and for memory making experiences that have passed on through generations. You will be missed by many and thought of often. Your Family generously will continue to carry on the tradition in the values that have been shown and laid out beforehand. With deepest sympathy Christine
We are very sorry for your loss. We love your family store from Connecticut to New Jersey. Our hearts and prayers are with you. ❤️❤️❤️🙏🙏🙏🙏🙏
I'm very sorry for your loss. As time passes, the great memories will help you though this.
What a gift to have had him for so long. Thank you for sharing a little bit of who he was with all of us. I wish you all peace and healing with his loss. Warm regards, Harriet
I'm am very sorry to hear about your Dad's passing. He was a fine man and hope all his loving memories will keep the family comforted. My sincere condolences in your loss. Long time customer Libby from Wethersfield CT
Myself and my family sends you the warmest of condolences and sympathy for your loss but remember one thing you will see each other again when the time is right we grieve today and we grieve tomorrow one day it will get a little less may God be with you in your time of need I pray for you all Jennifer
With sympathy to the Leonard family. A wonderful man is now with the angels. He founded a one of a kind store. Thanks Stew Sr.! Lynn and Peter
Your father was an amazing man who built an incredible business from the bottom up. His legacy lives on and he left this world knowing that it always has been and will continue to be his family's business. May you feel the warmth of his smile, the feeling of his love and the light that continues to guide you as you carry on just as he would expect you to do.
My sincere sympathy on the loss of such a wonderful. He created an empire but still continued to share and be humble.
So very sorry for your loss. I remember visiting his first store in CT His passion showed in the quality of all the products in his stores. Love shopping at his stores. God Bless
My condolences to the family and friends may he R.i.p from Connecticut to Yonkers always love stews. R.i.p.🙏🙏🙏
So saddened by the lost of your Dad! 93 1/2 years! God Bless! Remember all the great memories you all had! My prayers go out to you & Family!! Liz
Condolences on your Dads passing. He was a visionary and provided our family with great value and fun for our children and grandchildren. May he rest in peace
It's never easy losing someone you loved but thinking of them and knowing that you were there from the beginning to the end is reassuring memories my sincere condolences to the stew family my he RIP
My sincere condolences, thanks for sharing your beautiful memory of your dad. A piece of your heart has been taken away, you have gained a forever angel that will always watch over you and the family. Sincerely, Yvonne I too have a forever angel my Dad.
"It's never easy losing someone you loved but thinking of them and knowing that you were there from the beginning to the end is reassuring memories my sincere condolences to the stew family my he RIP
I am so sorry for your loss. Your dad sounds like an amazing man - love that he started as a milkman and worked his way up!! Stew's is my favorite store - amazing what he created and that the family keeps it going and is always adding new things - you all do a great job and he had to be so proud of you all. I do believe our loved ones never leave us - he will be watching you all!
Please accept my sincere thoughts and prayers upon the loss of your loved one. I fully understand your feelings right now as I have only recently lost my Mom of 96 years, who, by the way, always loved to visit your store in Paramus. It was a weekly visit she so looked forward too. May all of your loving memories of Mr. Leonard be with you always and, as a dear friend said to me upon the loss of my Mom, always look to the heavens and smile at your loved one. Sincerely, Walter
My condolences to the entire Leonard family! You all must be so proud of the legacy he has left behind. May he rest in peace!
We are so sorry for your loss. Please know we are thinking of your family at this difficult time. Your father left behind a legacy that has become an integral part of my family's traditions. Our family loves your stores (Newington). When my kids were young, I would bring them just to walk the aisles, push the buttons and eat soft serve. Now we visit your store to stock up for every major holiday, special occasion, when porterhouse is on sale, and the occasional weekend dinner. Thank you! And God bless you
OMG My heart is breaking for your loss but what a legacy! Your father, Stew Leonard came into our family in the 1960s. Mom would drop us kids off at the Roton Point Club, Rowayton for swim practice & go to Stew Leonards for milk & whatever else you sold then (we lived in Stamford). Now I Happily live within walking distance of your Danbury store & my sister lives in Richmond near Tom's store. Your Family has been an important part of our Family for 60+ years!! Your Dad has made a difference & left a wonderful legacy. Deepest condolences to You, Mother, Family & loved ones. Kind Regards,. Shari 😪🙏💓"
Hello and so sorry for your loss. My family literally grew up with your dad! My grandmother and Uncle loved in Norwalk and later on your dad was my grandmothers mild man! He would deliver milk and if she was hanging clothes outside, he would step in and stir the sauce she had on the stove! Growing up both our families were poor but you would never know it, as they lives generous life back then and in later years. In later years, my Uncle Tony worked for Stew (carpentry) and used to fly his plane to visit him when he was in PA. Fondest memory was when I grew up was getting icecream at the outdoor stand that later became the Norwalk store. We moved to Bethel and you later built the Danbury store. One year my husband and i took our two boys to the danbuty store on a very very cold Sunday. We got a flat tire on our truck and Tommy had his team get it replaced while we sipped hot chocolate, Years later, I went to work for a British celebrity and Tommy had his team deliver a huge assortment of top notch groceries for an event we were having for some ambassadors children. Thank you for always being the most honorable family. Just like my Grandmother and Uncle, You daddy will be missed!
I too remember your Dad & his Milk Truck in Norwalk. I also remember how sad I was when he took our field away from us on Westport Ave, where we would play to build the store. Where later in life my parents would take us shopping there any day of the week except Christmas. The milk vending machines on Strawberry Hill and around town where you could get milk any time of the day. To the Leonard family my deepest Sympathy but consider yourselves blessed to have had a husband, father, grandfather. great grandfather, etc. like Stew. May the Lords Peace be with all of you. Tony Mangone & family
Condolences to the Leonard family from a loyal customer. Thanks for all he's done for the community
One of my most cherished moments of the time I lived in Conn was having lunch with Stew and his sons and getting a tour of the new Danbury store. This was courtesy of my brother, Gary "Jet" Johnson, who asked Stew to give a motivational speech to his Kawasaki sales team and became friends with Stew thereafter. Stew took me aside for a private conversation that day and I'll never forget it. I still have a photo of Stew, my brother, his co-worker, Tom, Stew Jr., and myself in front of the store, now about 30 years later. My condolences to you and your family. Mark J, Edina, Minnesota
I was hired in 1999 by your dad and could feel how much he loved his family and company a great person he will be missed John R
Very sorry to hear of stew Leonard sr passing . My condolences to the his family. As a former butcher and competitor I always loved your stores
A life well lived.............my sympathy to the Stew Leonard family
We offer our sincere and heartfelt condolences Mrs. Leonard and the entire Leonard family. Losing the elder Mr. Leonard is very sad but his legacy of leadership, kindness and generosity will live forever in your hearts. May God bless and strengthen each of you and may you know there are many of us out here who do not know any of you personally but who truly feel your sorrow. We will continue to shop with you and together we will carry on Mr. Leonard's fabulous legacy. Blaine & Robin Milford, CT
Stew Leonard, Sr. was the family patriarch of a dairy operation which grew to be one of the most respected operations of its kind in the country. Known for his commitment to customer service, the business was well respected and was managed on the premise that the customer is always right. So few businesses these days put their customers first, and it is because of these precepts that the company will continue to prosper into the future. Stew's family can thank him for the legacy of success that he has brought to his family.
I had the privilege of working at your store in Yonkers years ago when I worked for the lottery doing promotions for your customers. It was always a great experience and my sympathies go out to you and your family !!
One of my very favorite stores to shop.. I only wish there would be a Stew Leonard's where I live.. it would be wonderful.. here's to many years of being able to enjoy all that Stew Leonard's provides.. what a special man your Dad was.. a once in a lifetime man.. thank you, sincerely and God Bless..
My sincere condolences for your loss. But what a great life and legacy to leave behind. Stew Leonard's was part of my life growing up in Wilton. I witnessed the legend grow from the flagship dairy store. Still apart of my life shopping in Newington
Good morning Leonard family. As I woke up this morning and saw the channel 7 news and heard about your father's depart from this world it saddened my heart. My deepest condolences. Just know that he's never forgotten. Love your store. I shop at the one on stew Leonard drive
My heartfelt condolences. We take for granted names and brands… behind them are real people. Thank you for sharing insight on his life. What a beautiful tribute. Your establishment is not only his legacy but a staple in our household. Prayers for strength ands peace for the family through this difficult time of loss. -Niesha Canselo Yonkers NY store
My heartfelt sorrow and prayers to the entire Leonard family. Your Dad was my milkman house to house back in the 60's. He will be forever remembered 🙏
I am so sorry to hear about your father. He started this wonderful supermarket, where I shop very often. You provide high-quality foods, many of which are ready to warm and serve, which saves me a tremendous amount of time. We always enjoy your foods, your stores are always clean, your employees are always courteous, and a free ice cream with my shopping points is just delightful. I know your entire family has worked very hard all these years to establish this wonderful store. Thank you. It's always heartbreaking to lose a cherished family member, however, he started a wonderful company, which is very charitable, supporting many community minded organizations. And the Stew Leonard's supermarkets provide many jobs, so that employees can provide for their families. I know you will always keep your dad, granddad, in your hearts. You can be very proud of all the ways he and his descendants have made quality of life better for many American families.
My heart breaks for your family. I have grown up with weekend visits to Stewies in Norwalk. And the petting zoo was my favorite. The impact you have had on soo many is ever lasting. Prayers and hugs for all of his loved ones.
So sorry for your loss. He sounds like an amazing man ♥️🙏
You made this world a better place and will no doubt make heaven a better place too. RIP Stew
He has shared a vision with so many people to let them experience what quality is in food. Let it be said he gave the best to us. You can't beat it, no where. Evon, Manhattan
What a beautiful story of your amazing dad. May he rest in peace. Praying for you and your family during this difficult time.
I'm sending my biggest condolences to you and your family. He was a great genuine and kind spirited man who was a big inspiration for many. I was one of the first cashiers hired to work at the East Meadow store and I enjoyed working for you for 2 years. You and your family are in my prayers and I'm wishing you and your family an easy journey in mourning. Best wishes, Tia
Stew is the reason my 1 year old son loves his cows 🐄 & bananas 🍌 thank you so much, we are so glad his legacy will continue In our neighborhood 🧡🕊️ #eastmeadow
To the Leonard Family, What a wonderful legacy left by your dad! How lucky for him to see his family succeed all the while remembering good times. I'm truly sorry for your loss. But take comfort in the knowledge he was happy & lived a well life for 92.5 years!! God bless you & your wonderful family. Aloha Roselani & the Ferguson family
My husband and I heard about your Dad's passing on the evening news and our hearts goes out to you and your whole family. Our deepest sympathy and condolences. May the memories you have created carry you all in this difficult time. I myself lost my Dad in 2021 sadly to COVID-19. And even if he was 84 years old then and you hear people say , " oh he had a good run", for us children, there's always a part of us that we wished they could be there forever. Give thanks for his life of almost a century and celebrate his legacy. I've been coming to your Yonkers location since 2000 and now after being married and having 2 boys, we're at your store at least once a week. It's never easy losing a parent, no matter how old we all are. May the grace of God be with you as you mourn your father. May he rest in peace. God bless us all."
Been going to Stew Leonard's since 1973. I feel like I grew up with Stew Leonard's and I can honestly say I've never met a team member that was anything less than "just what I needed". Still batting 100% after all these years. God bless the Family and the teams in all the stores. This life should and will always be celebrated. Stew Leonard has been an honest man since day 1. He'll be amazing to meet in Heaven!
I am so terribly sorry to hear of the passing of Stew Leonard. He was truly a pioneer in the Dairy Farmers community. May in Rest in Eternal Peace, knowing he is truly loved and admired and appreciated by everyone who ever met him.
My deepest condolences. I met him at the Norwalk store and loved him immediately. I also love that store and wish you would build one in Milford/ Orange area. It made grocery shopping actually fun. I really miss it and we definetly need it here. Wonderful family. 🌻