Around The Store With Stew
You Have To Buy This "Black Dirt" Lettuce
We visited one of our local lettuce growers in Florida, New York. Frank's family is the owner of Dagele Produce Farms, which dates back 150 years. He took us on a tour of his 550 acres of farmland and was proud of his "black dirt" fields in Orange County in the Hudson Valley. Frank credits his lettuce tasting so good to the black dirt. It reminded me of touring a winery where the winemaker is always so proud of their soil. This black dirt looked just like a deep, rich ground coffee! While there, I realized that my ancestors started farming in the neighboring town of Bellvale, New York, in the 1860s. Only 7 miles away was the Bellvale Creamery. I called one of the owners, Amy, who is one of the 200-year-old Wisner family members. Off we went to the Creamery (and tasted their amazing ice cream) and learned that William Wisner sold 207 acres to my great grandfather, Samuel Judd Stewart, back in 1860. His son then started selling the farm's milk, eggs, and cheese in Brooklyn in 1883. My grandfather then moved to Norwalk, Conn. and founded Clover Farms Dairy. My Dad then began Stew Leonard's in the 1970s. Wow! What a small world. Check out some of our Romaine and red leaf lettuce from Frank's farm. You can really taste the difference. Is it local? I was able to drive to visit Frank, have lunch, and was home for dinner. And guess what I'm eating tonight? Some of that great Hudson Valley lettuce!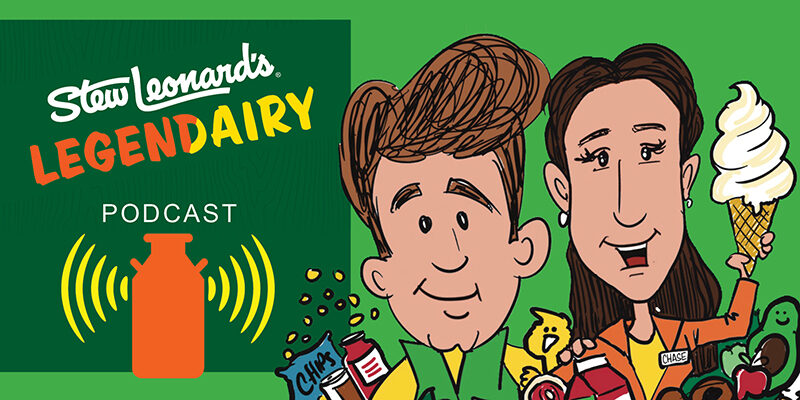 300 Listeners In Less Than 24 Hours
My daughter Chase and my nephew Andrew launched a Stew Leonard's podcast this week! It's called LegenDAIRY. (My dad would have loved that they got the word "dairy" into the podcast's title!) As members of the third generation of our family business, they've had front row seats to see how products go from the shelves at Stew Leonard's and into our shoppers' carts. They'll be telling great stories about our farmers, our Team Members, and our family. Episodes one and two are available now. Chase and Andrew even interviewed me for the next two episodes! Check out LegenDAIRY on Apple, Spotify or YouTube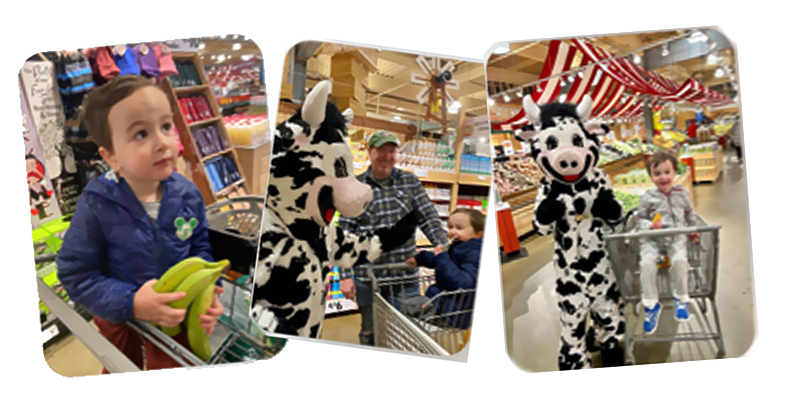 What Makes Me Smile
One of our customers sent a beautiful note about her son Liam that I wanted to share. We should all feel so proud that we can make a difference in someone's life. Here's what she wrote:
Hi Stew - I'm Liam's mom. Liam is 2 years 8 months old. I've been meaning to write for quite some time. I especially wanted to share after Stew Leonard Sr. passed. Liam was recently diagnosed with Sensory Processing Disorder. Learning to navigate this has, at times, been a tremendous challenge. Last summer, I was at a complete loss with how to handle his behaviors. Without exaggeration, Liam and I went to Stew's almost every single day last summer (and still go at least one day a week) because it was the one place that made him happy. I know that for most people who walk through the doors that it's just a grocery store with a fun experience. But for our family, it's been a safe haven and a place where my son is guaranteed to smile and be happy. With love and gratitude from me and especially Liam, your #1 fan.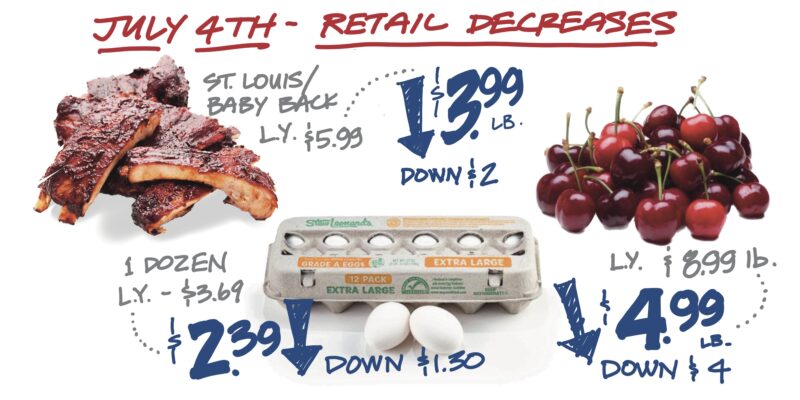 Pricing – Ups and Downs for the 4th
I'll start with the good news. Cherries are down $5 lb. over last year and they are sweet. St. Louis Baby Back Ribs are down $1-2 per lb. and the big news item is eggs are down $1.30 a doz. Things that are the same at Stew's are our Naked Chicken Breasts at $4.99 lb., ground beef (a big volume item) at $3.99, American cheese (for your burgers) at $5.99, butter at $3.99, and strawberries are $3.99 lb. Items that are higher are peaches, which are up 50 cents lb. to $2.49, due to bad weather in Georgia. Corn (weather again) is up from 50 cents an ear to 80 cents. Stew's Ripple Chips are up 40 cents to $4.39 (supplier price increase) and 24 pack water up $1 for a 24 pack (again, a supplier increase). The big one is the whole peeled filet mignon.
It's up $1 lb. to $18.99 lb. Still a great price but, I've spoken to our ranchers out west and there is a big-time drought. They need grass and corn for their cattle to feed on and, without the rain, it hasn't been growing. Thus, the cattle aren't growing as fast, and the ranchers aren't increasing their herd sizes. Economics 101 – Supply and Demand. Our steak prices are higher than last 4th of July, but we have kept our ground beef the same price (even though costs are up).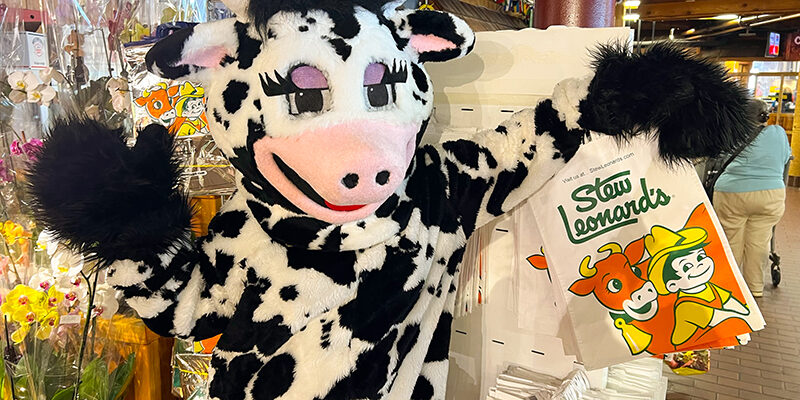 Our Bag Dilemma
We have thousands of photos of customers from all around the world (celebs and Presidents, too) holding one of our plastic bags. They were iconic! But then, the wind changed. Plastic bags became banned. Paper was still okay in some places. This created a reusable bag phenomenon. But here's the reality, our paper bag usage increased dramatically. Each paper bag costs 23 cents (the plastic bags cost only .03 cents each!) and many customers were asking us to double bag because the handles ripped so easily. Plus, paper bags are bulkier to ship. One trailer load of plastic bags equated to four loads of paper. Not good for our carbon footprint (more trailer trucks on the road, paper mills, etc.). Our solution? A "non-rippable" (is that even a word?) bag that is biodegradable and holds twice what a paper bag can. It will cost you 30 cents, but it seems like the best solution for us, you, and the environment. How do we solve this in the long term? Remember to bring your reusable bags when you shop. This way, you won't need any bags. It's a WIN/WIN!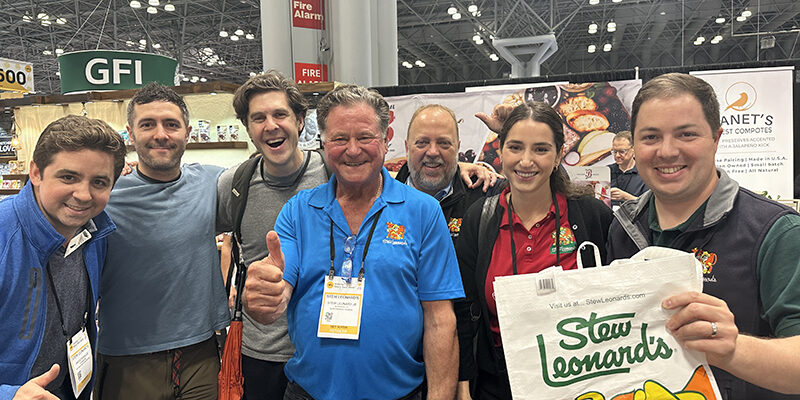 What Trends Did We See At The NY Fancy Food Show?
We brought 25 managers to the Fancy Food Show in NYC this past week. Over 20,000 people attend this show and there are 1,800 exhibitors with many small, entrepreneurial family businesses behind them. Here are a few highlights:
Most unique item - Oatnog. Tasted like Eggnog and was surprisingly refreshing.
Most expensive item. A small grower from Italy had canned tomatoes that he wants to sell for $12 a can! That's triple the price of the Stew's brand we sell in the store. He said it sells well at Eataly in NYC.
Best tasting – Pinsa Pizza. Another pizza? This had a sourdough crust made with Italian flour that was fermented for 72 hours. Unbelievable. I ate half a pie! Need to negotiate a better price, but the owner really wants to sell at Stew's.
The coolest people we met. Bobby, Chief Baking Officer from Magnolia Bakery in the Village. There is always a line at this bakery. Celebrity heaven. They have a Banana Bread Pudding Cookie that you'll see in the store soon. Also, we met the Zaro brothers from the famous Zaro's Bakery that has a flagship location in Grand Central Station.
Items we're going to try. (We'll see if you like them.)

Swedish Ginger Tea Cookies
Strawberry Shortbread Cookie Ice Cream (ridiculously good!)
Icelandic Dark and Milk Chocolate Bars
Whoa Cookie Dough
Dumpling Daughters' Dim Sum and Dumplings
Organic San Marzano Tomatoes
Lasagna Soup
Street Corn Soup
Our family recently went to Los Angeles to celebrate my father-in-law's 90th birthday. We flew Delta, and after landing, I brought my grandsons up to see if they could possibly see the cockpit. I knocked on the pilot's door and the Captain answered. His face lit up when he saw the young (future?) pilots. He welcomed us all inside the cockpit and let the kids sit in the Captain's seat. The kids were so excited, they could hardly breathe. He then gave them each a pair of plastic wings to attach to their shirts. I wrote to the CEO of Delta airlines, Ed Bastian, and commented on my experience. I told him that he now had a very happy customer. Delta is so big that I thought I'd get a letter from customer service. Instead, "Ed" as he signed it, emailed me personally! What's the lesson here for Stew's? I've told about 30 people about the pilot and Ed's response. Now, I'm telling all of you! Giving great customer service really pays off. Why do we have the rock at the entrance to each store? We want to make our customers happy! Just like the Delta Captain did with me and the kids. I'm now a happy Delta customer!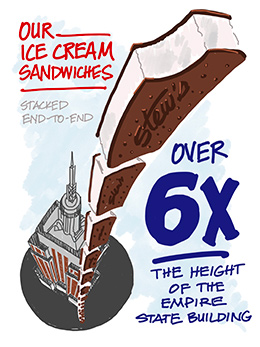 What's Hot For The 4th?
Here's What We'll Sell...
More than 100,000 hot dog and hamburger buns

More than 30,000 burgers (#1 burger is the Filet Mignon Burger!)

Hot dog sales will DOUBLE. That's over 20,000 packages of hot dogs!

50,000 lobster tails

Over 100,000 ears of corn

Over 10,000 lbs. of potato salad

Over 60,000 bagels

More than 35,000 ice cream cones

More than 5,000 ice cream sandwiches

Over 10,000 watermelons

Over 20,000 lbs. of peaches and nectarines

More than 15,000 avocados

10,000+ lbs. of cherries

10,000+ lbs. of potatoes

Over 15,000 jars of tomato sauce

Over 6,000 containers of Freshly Made Guacamole

We're expecting to sell 5,000 subs

There will be around 3,000 propane tank refills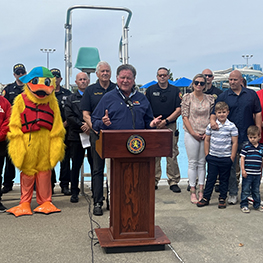 We Got Eclipsed on
Long Island!

Stewie the Duck and I joined Nassau County Executive Bruce Blakeman last week for a water safety press conference at the Wantagh Park Pool on Long Island. Now that school is out and local pools and beaches are open, I really appreciated the County Executive's support to help get out my family's water safety message! We did get some coverage on News 12 LI, but the bigger news seemed to be whether or not the pool at Christopher Morley Park would eventually reopen.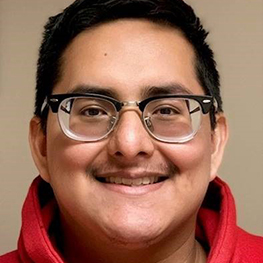 Team Member Tuesday – Way To Go Kevin in Yonkers Grocery!
A representative from Community Based Services in Westchester, NY shared the following message with our Yonkers store grocery manager, Andrew:
John is completing his 7th month of volunteering in the dairy department and is doing very well! We thank you for your support since day one! However, I am reaching out with the hope that your team can recognize Kevin in the dairy department. He has really been outstanding dealing with John and Ally, his job coach, and always lends a helping hand. Kevin is an outstanding, caring young man and really "gets" John. Please recognize Kevin for being an outstanding member of Stew Leonard's team!
It's Okay To Put Ice In Your Wine… As Long As You Know You Shouldn't!
That's the advice that my daughter Blake, who's a Certified Master Sommelier, gave to reporter Marcy Jones when interviewed on WFSB-TV (channel 3 in Hartford) for their Wine Wednesday segment. She shared her 3 Tips for Buying Wine This Summer:
• Go screw cap! So many wines these days are screw cap because it helps retain the freshness of wines meant for enjoying now. Plus, they're convenient for picnics, days at the beach, or entertaining.
• Red wines taste great with a little chill! Throw any lighter reds in the fridge for 30 minutes before you serve them.
• Look for value in different regions. I love Sauvignon Blanc, but in the summer one of my go-tos is Albariño, a white wine from Spain. It's crisp and refreshing, and it is a great, less expensive alternative to many Sauvignon Blancs.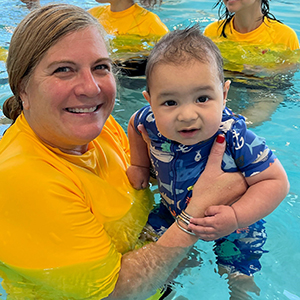 Enrollments continue to grow and thanks to your feedback, we're improving every day. I'm so happy to hear that you love our instructors, and we can't emphasize enough the compassion and personal attention that they give to each child. Everyone learns at a different pace. So far, so good. You've complained about the noise, so we ordered sound absorbing panels to install in the pool and viewing areas. Thank you. Also, you've said it's a little confusing on your first visit. Do the kids need a diaper? Should I buy swim googles? Bathing cap? We are trying to address all of your questions! One thing you love is the 90-degree pool water. And the big hit is the wind tunnel. I tried to adapt the concept of a "drying tunnel" that they have at Hershey Park ($5 per trip), and it will dry you off after getting wet on their rides. Instead, the kids just love running through our renamed "Wind Tunnel" for free. One parent said they had to spend an extra 20 minutes at the school until their child got tired of doing laps through the tunnel. We're adding more disco-type lights and push buttons. We've always had a suggestion box in each of our stores for years, but customer comments have changed over to Google reviews. I read them with our team (at the swim school or the store) every day, so please keep them coming. We're also donating $20,000 to the Regional YMCA of Western Connecticut to fund 1,800 free swim lessons for nearly 200 children in need so they can learn to swim. That's a really big THANK YOU to all of you! YOU MADE THAT POSSIBLE!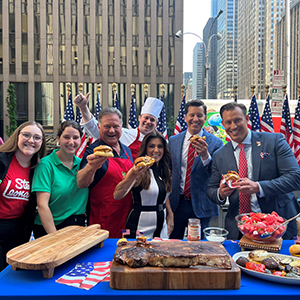 Tune Into Fox & Friends On Sunday And Find Out Which Burger Is The Best
For the seventh time, we'll be doing a summer grilling segment this Sunday, July 2nd, on the plaza at Fox & Friends Weekend in NYC. It's always fun and I just love anchor Rachel Campos-Duffy. She has 9 kids and is deeply committed to our water safety efforts with children. We always have an off-air discussion about Stewie the Duck and her kids all have the plush toys, books, and stickers. This year for fun, we're going to do a burger taste test with the anchors. We'll taste:
Our most popular chuck burger (80% beef, 20% fat).

A filet mignon burger (82% beef, 18% fat).

A ribeye burger (80% beef, 20% fat).

An American Kobe beef burger (80% beef, 20% fat).

Funny Quote
"The secret of a good sermon is to have a good beginning and a good ending; and to have the two as close together as possible." Actor and comedian, George Burns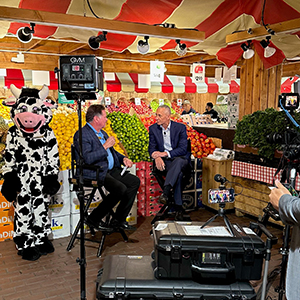 M&T Bank & 22,000 People

M&T Bank CEO René F. Jones asked if we could do a "Community Live" video for the internal M&T team members. We sat in the Produce aisle at our Danbury store for 30 minutes and discussed our business philosophies. M&T is our leading bank and has helped us grow our business over the years. I really want to keep a GREAT relationship with our bankers! My father taught me the importance of that! I discussed our philosophy at Stew's, which is, S- Satisfy the Customer (Rule 1 and Rule 2 on the rock), T- Teamwork (friendly people), E- Excellence (fresh, great products) and W- WOW (create excitement in the store). Yes, it spells STEW. After I was done, René said they are going to edit the video and send it out to their 22,000 team members at M&T. I'm glad I didn't know that ahead of time. I would have been nervous!

Bert - You Made Me Look Good

My brother Tommy and his wife Karen were here from Richmond, Virginia, for a family wedding. Sunday morning before driving home, they stopped by the Stewie The Duck Swim School unannounced to check it out. They wanted to see it in full swing. As they walked in, our front desk manager Bert greeted them and gave them a beautiful tour. Tommy called me afterward and said, "Congratulations on the Swim School! I was impressed with the happy faces on all the kids and staff but most impressed with Bert. He didn't know who we were and treated us first class when we arrived. He almost fell over when I eventually told him that I was Stew's brother!" I called Bert and told him, "Thanks for making me look good today!"
Round Up At The Registers
As I mentioned in a past newsletter, our in-store Wishing Well has dried up. We would donate all the loose change to various charities, but you're not using cash anymore. We're 90% electronic payment at the registers. Now, you can "round up" your food bill at the registers and we'll donate that to different charities. For May, we collected $3,000!
Why My Wife Hung Up On Me
My wife Kim works at our wine store selling wine. I was talking to her on the phone one day and a customer walked up to her, and she said "Stew, I've got a customer and have to go!" and hung up the phone. I called her back and I asked, "Can you put me on speaker phone with that customer?" I introduced myself and said, "I was just dying to talk to the guy who got my wife to hang the phone up on me." We all laughed. We always say the customer is always right!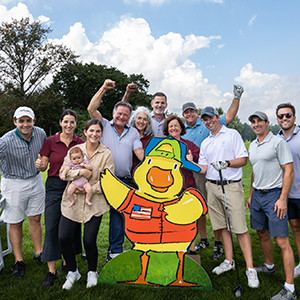 Who's Saving Lives
We're excited to host the 26th Annual DOUBLE YOUR MONEY Golf Outing this year! Kim and I are matching Diamond, Gold, and Silver Duck Sponsors 1:1 – You double your money AND IMPACT! Event proceeds will support Stew Leonard IIII Water Safety Foundation's programs to prevent accidental drownings, including funding swim lesson scholarships for kids in need and lifeguard training. The outing will be held at Brae Burn and Century Country Clubs in Purchase, N.Y., on Monday, September 18th. To sign up, sponsor, or for more information, visit stewietheduck.org/annual-golf-outing/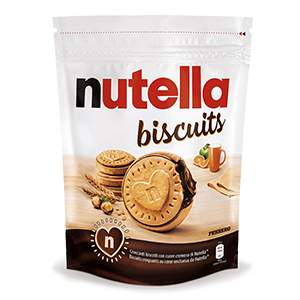 New Product Lookout
Nutella Biscuits are FLYING off the shelves and are incredibly delicious. It's like the Lay's Potato Chips slogan, "Bet you can't eat just one!" It's a sugar cookie with their delicious hazelnut spread inside. We're on a mission to figure out how we can make one with our own hazelnut spread in the bakery. Coming soon.