Stew Leonard's Of Yonkers Breakfast with the Easter Bunny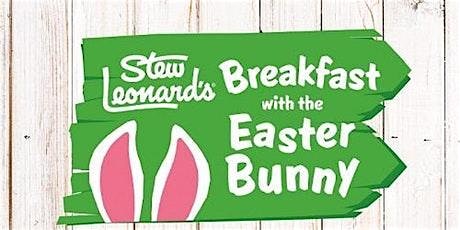 Saturday, April 4th at 10:00 am
Yonkers, NY
Come join us for a special breakfast on Saturday April 4th, 2020 at 10:00am hosted by the Easter Bunny, Wow the Cow, and their friends. Stew Leonard's chefs will offer a farm fresh menu for the breakfast featuring Fresh scambled eggs, Hash brown potato cakes, Sausage, Pancakes, Fresh fruit and seasonal berry bowls, Assorted mini muffins and Bagels (Preserves, butter and cream cheese), Apple cider donut holes, Freshly brewed coffee and decaf coffee, Apple Juice, Water and Milk. All children will be able to come on up and get a photo with Mr. Bunny and friends. 
*The breakfast is at 10:00 a.m. adults will be charged $16.95 each and children under the age of 12 will be charged $14.95 each.
ALL ATTENDEES WILL NEED A TICKET! 
*All children must be accompanied by an adult*
*All attendees ages 2 & Up must have a purchased ticket*
*Please contact the event organizer if you have any children attending under the age of 2. Please note if you will need a highchair. 
*Please contact the event organizer if you have any special seating preferences (ie, Johnsons would like to sit with Smiths)